Ask Goodwin - would you buy a diesel engined car?
Diesel has become a dirtier word than usual recently. Would Colin Goodwin own a car fueled by the stuff?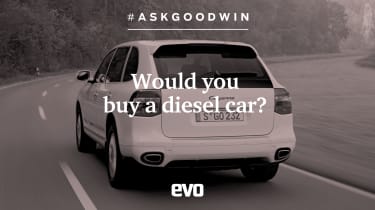 Would you buy a diesel car? - Michael Turner, Oxford
A question clearly prompted by the VW debacle. I've only ever owned one diesel car – an F-Reg Citroen BX estate. In red. I only bought it because it had been an art department pool car at a magazine I worked on at the time. Being a pool car it wasn't maintained or looked after, and therefore I got it very cheap. Which is just as well because the cam ate itself within a month. It wasn't turbocharged, either, so it had a lack of performance and sophistication that would be unrecognisable to today's turbocharged diesel driver.
BX aside, I have never for a moment considered a car that runs on diesel. The big problem is that I hate the smell of the stuff and in particular when it gets on your clothes. Not only that, it's a very dangerous fuel. I am one of the few motorcyclists not to have slid off on a puddle of the stuff on a roundabout, although I did have a massive understeer moment on a petrol station forecourt and twisted my ankle.
A diesel engine, while being economical and torquey, is simply not a desirable power unit for someone who has had a lifelong passion for the internal combustion engine. Up until recently I had a petrol lawnmower for just 10 square metres of lawn. I've now seen reason and bought a Flymo but mowing the lawn just isn't the same now.
Diesel engines are just about acceptable in sailing boats but not in power boats, which should either have a 150bhp Mercury 2-stroke at the stern or a big-block Chevrolet powering a stern drive.
I do admit that both the Porsche Cayenne and Range Rover V8 diesels are exceptionally refined and will save you a couple of quid in fuel, but then again you wouldn't find me owning an SUV either.
Ask Goodwin is a weekly column on evo.co.uk by Colin Goodwin, one of the UK's most popular motoring journalists – and one of the early contributors to evo magazine. 
You'd like Colin – he drove an amphibious vehicle across the English channel (it caught fire half way) and he held the Guinness World Record for the highest speed in reverse (104 mph in a Light Car Company Rocket). More recently he drove from England to the Geneva motor show… in a Caterham 160.
Oh, and when he visits the evo office he does so in a plane that he built in his shed…
Check back every week for a new column, and get involved with #askgoodwin either at @askgoodwin (Colin's Twitter) or @evomagazine. 
Make sure to get involved in the Ask Goodwin debate on our Facebook page here. You can also put your vote in via the poll system found on the evo.co.uk homepage