Ask Goodwin - What's your favourite road movie?
Everyone has a favourite road movie - and no, Bullitt doesn't really count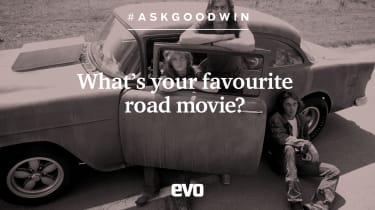 What's your favourite road movie? Mark Skidmore, Liverpool
Not Bullitt because that's a cop film with a car chase. Or Vanishing Point, although that's certainly in the top five. Dirty Mary, Crazy Larry is real favourite because it stars Peter Fonda, who is easily as cool as Steve McQueen, and Susan George who is just the sort of girl you should have along if the law is on your tail. The Dodge Charger plays a starring role, as it does in Bullitt and Carquake (another top five film). I haven't seen the film for years but essentially it's a modern day Bonnie and Clyde heist movie with Fonda and sidekick George doing a runner in the Charger and getting chased a lot.
The original Gone in Sixty Seconds was good, far better than the remake, but my favourite of all is Two Lane Blacktop. This film had an interesting cast that included singer guitarist James Taylor, Beach Boy drummer Dennis Wilson and actor Warren Oates. Oh, and the required hippy chick in the form of young actress Laurie Bird. Taylor and Wilson drove a primer grey '55 Chevrolet and Oates drove a yellow 1970 Pontiac GTO. Not an ordinary GTO but a Judge special edition. It helped that when I first saw the film a mate had a 1969 GTO Judge.
Again, I haven't seen the film for decades but there was a sort of plot with Warren Oates playing the baddie aggressor to Taylor and Wilson's fun-loving hippies. Although Taylor didn't do much smiling in the film. It came out in 1971 and Car & Driver editor Brock Yates cited it as the inspiration for his legendary Cannonball Run event which itself inspired a film.
One of my fondest memories of the film is in the closing moments when the boys are taking part in a drag race. The celluloid burns up but not before we have a flash of their foe: a Chevrolet El Camino just like the one I would eventually own.
Let's have your film choice and a readers' poll.
Ask Goodwin is a weekly column on evo.co.uk by Colin Goodwin, one of the UK's most popular motoring journalists – and one of the early contributors to evo magazine. 
You'd like Colin – he drove an amphibious vehicle across the English channel (it caught fire half way) and he held the Guinness World Record for the highest speed in reverse (104 mph in a Light Car Company Rocket). More recently he drove from England to the Geneva motor show… in a Caterham 160.
Oh, and when he visits the evo office he does so in a plane that he built in his shed…
Check back every week for a new column, and get involved with #askgoodwin either at @askgoodwin (Colin's Twitter) or @evomagazine. 
Make sure to get involved in the Ask Goodwin debate on our Facebook page here. You can also put your vote in via the poll system found on the evo.co.uk homepage.