Ask Goodwin - In what vehicle would you like to make your final journey?
You certainly wouldn't find Goodwin being laid to rest after a ride in a Mondeo...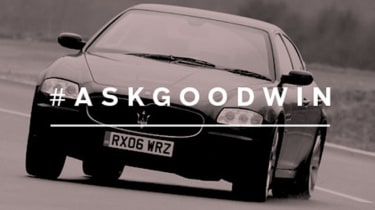 In what vehicle would you like to make your final journey? Sandra Peckett, Belfast
By final journey I presume you mean a hearse? It's a very good question and an important one. Certainly I don't want to begin my journey to the other side in something inappropriate and unfitting for a lifetime car enthusiast. Like a Volvo hearse. I saw a Mondeo-based casket-carrier the other day and it looked awful.
I'm glad you've asked me this because it gives me an opportunity to state to friends and family that I do not want to be stuffed in that motorbike and sidecar funeral wagon. It's gimmicky and implies that I approve of motorbikes and sidecars which I don't.
Designing a hearse is a really big challenge. Even svelte saloons like Jaguar's XJ looks like a dog's dinner when the tin snips and mig welder have turned it into a stiff-wagon. A friend saw a Maserati Quattoporte hearse in Naples the other day and that looked quite cool. It'd probably conk out on the way to the church and I rather like the irony of being dead in the back of a dead Maserati waiting for the AA to arrive.
I've had the answer all along and anyone who has seen the cult film Harold and Maude will also have reached the same conclusion. It has to be the black Jaguar E-Type hearse that Harold built from the white roadster his mother gave him. It looked fantastic, easily as stylish as anything Ian Callum has come up with (I doubt hot rod loving Ian would be too offended). What a way to go.
I've seen photos of a modern copy of that car but instead of carving up an E-Type a slightly cheaper XK8 was used. I've been told that it's owned by Jonathan Ross's wife. With the price of old XK8 really low, I quite fancy building one myself. It'd make a handy run-around until the grim reaper comes calling. Hopefully quite a way in the future, Sandra.
Ask Goodwin is a weekly column on evo.co.uk by Colin Goodwin, one of the UK's most popular motoring journalists – and one of the early contributors to evo magazine. 
You'd like Colin – he drove an amphibious vehicle across the English channel (it caught fire half way) and he held the Guinness World Record for the highest speed in reverse (104 mph in a Light Car Company Rocket). More recently he drove from England to the Geneva motor show… in a Caterham 160.
Oh, and when he visits the evo office he does so in a plane that he built in his shed…
Check back every week for a new column, and get involved with #askgoodwin either at @askgoodwin (Colin's Twitter) or @evomagazine. 
Make sure to get involved in the Ask Goodwin debate on our Facebook page here. You can also put your vote in via the poll system found on the evo.co.uk homepage.