Ask Goodwin - What are your predictions for 2016?
There were ups and downs in the automotive world in 2015. What does Colin "Nostradamus" Goodwin reckon is in store for 2016?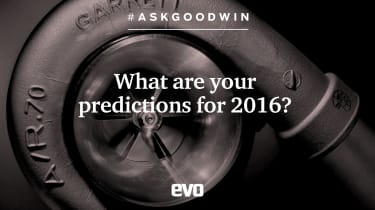 What are your predictions for 2016? - Matt Harley, Sydney, Aus
Lewis Hamilton will probably win his fourth F1 world championship, although I am now so disinterested in the sport that I can't claim to be informed. These days I barely know who is taking part and am far more content to wallow in the past via my subscription to MotorSport magazine.
The Volkswagen scandal will soon be forgotten, but there will be a growing crusade against diesel cars. The talk of banning them in city centres will increase and we could see an effect on sales of new diesel cars. Even at the beginning of last year the proportion diesel/petrol began to drift back towards petrol and I think we'll see that trend continue through 2016. It will be interesting to see how Governments deal with banning diesel cars in the cities without upsetting the nations' cab drivers. Actually, it won't be that interesting at all, merely a side show for the likes of us.
I predict that we'll see more and more autonomous driving systems launched. Mercedes is about to launch a new E-Class fitted with something called Active Lane Change Assist that will place your car into the next lane for you. Other companies such as Hyundai, Kia and Ford have announced that they're starting autonomous driving car programmes, too, with the latter allegedly helping, and possibly building Google's self driving car. With Audi already a couple of years into its self driving A7 program 2016 could be the year the technology makes a big leap forward.
Aside from the above I think it'll be business as usual. Car companies will continue to use trite and meaningless descriptions such as 'For an urban adventure lifestyle' for their new products. I'll be sitting in press conferences in which straight-faced engineers will explain how their latest 600bhp luxury car has revised front camber for improved turn in, when in reality the most aggressive turning-in it'll ever do is a last minute left turn off Park Lane into the parking area in front of London's Dorchester Hotel.
I'll also be sat in said press conferences thinking about the effects of a completely turbocharged world, with its linear torque curve, pondering how much I miss the drama of turbo lag and engines that 'come on cam'. And while I ponder these philosophical points the company's expert on connectivity will play gentle lift music over my head.
Have a great 2016 and keep in touch.
Ask Goodwin is a weekly column on evo.co.uk by Colin Goodwin, one of the UK's most popular motoring journalists – and one of the early contributors to evo magazine. 
You'd like Colin – he drove an amphibious vehicle across the English channel (it caught fire half way) and he held the Guinness World Record for the highest speed in reverse (104 mph in a Light Car Company Rocket). More recently he drove from England to the Geneva motor show… in a Caterham 160.
Oh, and when he visits the evo office he does so in a plane that he built in his shed…
Check back every week for a new column, and get involved with #askgoodwin either at @askgoodwin (Colin's Twitter) or @evomagazine. 
Make sure to get involved in the Ask Goodwin debate on our Facebook page here. You can also put your vote in via the poll system found on the evo.co.uk homepage.