Seven motoring films to banish the winter blues – evo Essentials
Forget the sales, grab a beer and settle down to watch these automotive epics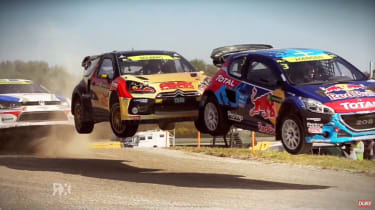 If your friends and family chose wisely, you'll no doubt have received some kind of driving-themed movie to watch over the Christmas period.
If not, then there's still time for redemption. Using those gift vouchers to purchase one of the following would be a good start.
We selected a pair of documentaries, a motorsport review and a classic driving movie for our Essentials feature in issue 218, and we've added a few extra here that we'd consider well worth your time.
No Limits: Impossible is just a word
Yet to hit general release, No Limits is worth waiting for. Produced by the team behind the stunning Adrenalin BMW film (see Essentials, evo issue 205), the story of Alex Zanardi's recovery and rehabilitation following a horrific crash in 2001 is inspiring, uplifting and absolutely unmissable.
Road: Nothing to Fear, Everything to Lose
The Dunlop family and the Isle of Man TT are inexorably linked – both through the family's dominance of the event over 30 years, and the danger and tragedy of road racing, which claimed Joey Dunlop's life in Estonia in 2000. Liam Neeson narrates the family's emotional story.
£7.99 (Blu-Ray) - amazon.co.uk
FIA World Rallycross 2015
Why Rallycross? Because it's becoming harder to ignore every year. With FIA support, global reach, F1-shaming accessibility and star drivers such as Petter Solberg and TV star Tanner Foust, Rallycross has risen from motorsport curio to major player. Few series offer more enthralling action.
£16.99 (DVD) - dukevideo.com
The Driver
The email to evo staff was simple: pick a driving film that isn't the clichéd Le Mans, Grand Prix, Bullit or Ronin. In the end, The Driver won out: it has one of the best car scenes ever (with Ryan O'Neal trashing an old Mercedes in a car park – a scene replicated in the classic Playstation game, Driver) and 'dialogue limited to about six words', according to Dickie Meaden. Perfect.
£7.71 - amazon.co.uk
FIA World Rally Championship 1995
Not a fan of modern WRC? We can't really blame you. Impressive though it was watching Sebastien Loeb dominate the sport for nine straight years, and witnessing the other Sebastien (Ogier) taking the most recent three, the cars and action just don't seem quite as exciting. The same cannot be said of the 1995 season – from McRae's fightback in the second half of the year, to the distinct shapes of Imprezas, Evos, Celicas and Escort Cosworths, it's one of the all-time classic WRC seasons.
£14.99 – dukevideo.com
Climb Dance
Only got a few minutes to spare, rather than a few hours? Then YouTube is on your side, with a near-endless selection of excellent, original videos on which to feast your eyes. It's no secret that we're fans of Best Motoring here at evo, but Roadkill, Jay Leno's Garage and Petrolicious all feature highly too. But before you watch any of those, update your fast-car knowledge with this classic 1985 video of Ari Vatanen negotiating the Pikes Peak International Hill Climb.
Flat-out in a Lamborghini Aventador SV
Then of course, there's evo's own YouTube channel. We've tested some of the fastest metal ever made and recorded much of it on video. But sometimes, the simplest tasters are the best – and little gets down to the core of what evo is about than these few minutes of Henry Catchpole driving a Lamborghini on the Isle of Man's derestricted country roads.