Ask Goodwin - Can you come up with a master plan to breathe life into Lotus?
Lotus has shown some promise recently. But with Goodwin in charge, its future would be assured...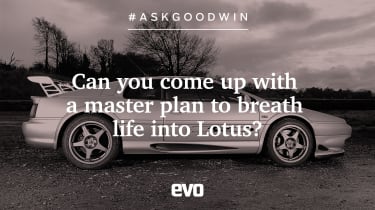 Can you come up with a master plan to breath life into Lotus? - Paul Whelt, Scarborough
Throw me a tricky one, why don't you? I think it has been a huge mistake to not build a new Esprit. I know from talking to ex-Lotus engineers that they had one very close to completion after Danny Bahar's Parisian Farce where he seriously suggested Lotus could develop five different cars in as many years.
Let's look at the plus points. For anyone around my age, and that's quite a lot of you, the Esprit was around in our lives right from its submerged role in a Bond film to the fantastic Sport 300 (the best steering of any car I've driven) and to the underrated GT3. Every time I see an Esprit I get pangs of nostalgia. Word is that Lotus hardly made money on the original Elise and I can't imagine there are huge profit margins on the existing cars. If you pitched a new entry-level Esprit at around £140,000 you would have plenty of leeway to add bespoke and limited edition models just as McLaren is doing with its basic chassis/powertrain package.
On the subject of powertrain, I would use not a Toyota V6 with turbo or supercharging, but the Ford Mustang V8. More precisely, the engine out of the limited edition Mustang 350R. This engine has a flat-plane crankshaft and would therefore have a more distinctive and modern engine note that would be better suited to a Lotus supercar. I can see the rear-end badging now: Lotus powered by Ford. Plenty of history there.
Of course the big problem is going to be financing such a car. McLaren spent a reputed £500m to set up its road car programme but that includes every model up until the 570S. Lotus could trim that number down considerably but I'd guess you'd still be looking at something like £150m. I don't know if they'd ever be able to find that sort of money but I can't see the company being able to spin out its current range indefinitely.
Ask Goodwin is a weekly column on evo.co.uk by Colin Goodwin, one of the UK's most popular motoring journalists – and one of the early contributors to evo magazine. 
You'd like Colin – he drove an amphibious vehicle across the English channel (it caught fire half way) and he held the Guinness World Record for the highest speed in reverse (104 mph in a Light Car Company Rocket). More recently he drove from England to the Geneva motor show… in a Caterham 160.
Oh, and when he visits the evo office he does so in a plane that he built in his shed…
Check back every week for a new column, and get involved with #askgoodwin either at @askgoodwin (Colin's Twitter) or @evomagazine. 
Make sure to get involved in the Ask Goodwin debate on our Facebook page here. You can also put your vote in via the poll system found on the evo.co.uk homepage.