The future of augmented reality windscreens - evo Connectivity
Windscreens could be used for projecting everything from speed to cornering lines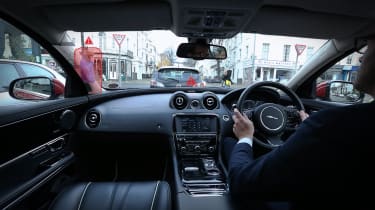 Unless you're a hardcore racing gamer, the first few laps on any new racing sim are likely to feature a twisting, dashed line, snaking its way around the circuit in front of you. Once you're up to pace, you'll probably turn it off – but, while you're learning, its braking points and acceleration zones help you master even the toughest of circuits.
Could similar technology be used in cars to improve our driving skills both on the road and on track? The concept of augmented reality windscreens has been explored since 2011 by automotive glass repair and replacement firm Autoglass. '2020 Vision' proposed a windscreen that displayed both essential vehicle data and augmented navigation features such as directions and information on nearby shops and restaurants.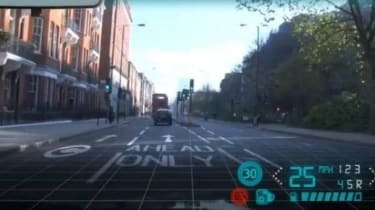 The company's work is more theoretical than practical – development is left up to the major manufacturers – as it tries to keep abreast of developments and predict changes in the market to ensure it's ready for the latest technology when it arrives.
Dr Chris Davies, head of technical research and development at Autoglass, told evo that augmented reality windscreens would require a 'bold step' from manufacturers, but production systems could easily be on road vehicles before 2020. dr davies expects that, as with many automotive technologies, it will filter down from high-end vehicles, but there are already cost-effective ways of implementing the technology.
Some form of dashboard-based projector is most likely, he said, while an organic light-emitting diode (Oled) film within the glass itself would be another option. The third he describes as a 'visor' worn by the driver themselves – a little like Google Glass. Whichever route the manufacturers take, some form of eye-tracking technology would be employed to ensure that what the user sees lines up squarely with the view through the windscreen.
But what about distraction? That's a risk, says Davies: manufacturers need to find a balance between displaying useful information such as navigation aids and speed data, and filling the screen to such a degree that drivers feel they're in an actual videogame – something he describes as a 'virtual cocoon'.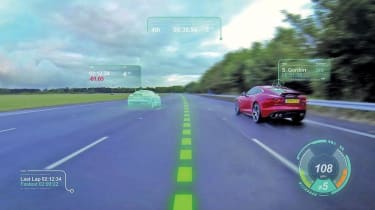 For driver training, though – both on the road and the racetrack – Davies describes augmented reality as a 'really exciting opportunity'. Dr Wolfgang Epple, director of research and technology at Jaguar land Rover, agrees. The firm showed off its own take on augmented reality screens in 2014, projecting driving lines and 'ghost vehicles', as well as speed and engine data, onto the windscreen of a Jaguar F-type.
'Showing virtual images that allow the driver to accurately judge speed and distance will enable better decision-making and offer real benefits for every-day driving on the road, or the track,' says Dr Epple.
With technology connected to the car's central computer, track driving really could become like a videogame, with braking points, gearchange points and racing lines all mapped out with perfect accuracy.