Ask Goodwin - What's the oddest car that you've ever owned?
It was never going to be conventional, but Goodwin has surpassed himself with this revelation.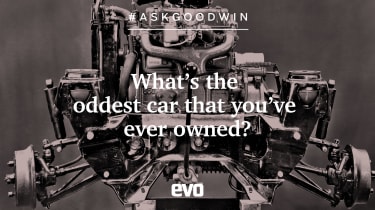 What's the oddest car that you've ever owned? - Anthony Simpson, Belfast
Technically, it wasn't actually a car. Many years ago I was trying to get shot of a clapped out Suzuki GT550 bike (the three-pot stroker). A bloke who lived locally, who I'd previously outed a Norton Commando to, said that he'd like the Suzuki but didn't have any money and wondered if I fancied swopping it for something a bit unusual. It transpired that this unusual machine was a three wheeler called an AF Spider.
The car was powered by a Mini engine complete with gearbox and front subframe. The chassis was a wooden monocoque, at least I think it was because this was well over 30 years ago. At the back was a single wheel suspended by a sort of swingarm arrangement. It looked a little bit like a pre-war Morgan three-wheeler. The bonnet, which was in yellow painted fibreglass, looked a similar shape to a Morgan's and was simply attached to the chassis with spring clips. 
There was barely any interior, just a couple of bucket seats and a bare minimum of gauges and switches. The Spider, as delivered, was a non-runner. I was not bad with the spanners back then, but the main problem was the electrics. Then, as now, I considered volts and amps the work of the devil. Many friends would come around and take the mickey out of my three-wheeler, so the incentive to get it running and onto the road where the general population could take the piss, was not great. Besides, there was a good chance that I'd have spannered myself in it because it would have been quite quick.
Anyway, the punchline is that eventually, due to parental complaints, I had to move it on. I advertised it in the Exchange & Mart (remember that?) and almost as soon as that issue hit the shelves a bloke rang and offered me £125 for it. I bit his hand off. Over 50 phone calls later I realised I'd seriously undersold the car. People were offering me £500 more for it over the blower. Apparently only a few had been made and had quite a following.