Toyota's decision to unveil a GT86 Shooting Brake concept rapidly turned talk at evo towers towards that of 'clown shoes', 'bread-vans' and others of that ilk.
The formula is simple: Take a sports car, add a hint of estate and squash the two together. The end result? A shooting brake.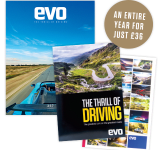 Subscribe to evo magazine
evo is 21 and to celebrate, we're returning to 1998 prices! Subscribe now to SAVE 39% on the shop price and get evo for its original cover price of £3.00 an issue, plus get a FREE gift worth £25!
It's quite the statement. A shooting brake says you've got your head screwed on. It says you like the idea of going quickly, but sometimes you might want to bring a bicycle along with you. Above all else, it says you don't want to turn to the default option when those characteristics are combined: a fast Audi estate.
Over the years there have been some truly brilliant examples of the breed. Oddball vehicles that on paper sound awful but in reality look 'just so'. These are our favourites.
BMW Z3 M Coupe
Who'd have thought the awkward looking Z3 could be so greatly improved with some wider arches and a bread-van rear end? And, who'd have thought mating a 300+bhp engine from the M3 with the rear axle from an E30 3-series would result in something that was actually great to drive?
The Z3 M Coupe works on so many levels. Affectionately nicknamed the 'clown shoe', the flared arches, broad haunches and relatively short length give it an excellent squat and aggressive stance. Then there's the addition of the 321bhp inline-six from the E36-generation M3, which gives the car a 5.1 sec 0-60mph time.
evo's first ever Car of the Year competition, all the way back in 1998, played host to a Z3 M Coupe. Back then we said it had 'an engine note more urgent than the four minute warning' and praised it for being structurally stiffer, crisper, more refined and more engaging than the M Roadster.
Lynx Eventer
The Lynx Eventer is a rare beast. The exact number is unknown, but records suggest just 67 were built. To put this in context, only 69 road going McLaren F1s were produced, five of which were prototypes.
As shooting brakes go, the Eventer is a classic exercise in the formula. It really shouldn't work, but it's hard to argue with the end result. In short, an Eventer is a 299bhp, V12-powered, rear-wheel drive Jaguar XJS wagon.
The Eventer is a three door, with four seats and a fairly enormous boot rendered less practical than it might be by its sloping rear window. Just 49 right-hand drive cars were converted into Eventers from the XJS, put together by Lynx Engineering who re-trimmed and altered the bodywork in order to convert it to the form you see here. Unusual to say the least.
Mercedes-AMG CLS Shooting Brake
A four-door 550bhp 'sports estate', the CLS Shooting Brake carves out its own niche in an already rarefied genre.
At launch, the 5.5-litre twin-turbo V8 was the only petrol engine you could specify in the car, meaning it well and truly stuck to the high-performance formula implied by the shooting brake philosophy.
In a straight-line, the car is capable of a 4.4 second 0-62mph time and a top speed of an electronically-limited 155mph. In our initial review we described an engine that 'does the full Jekyll and Hyde, burbling happily at low revs but prepared to pull hard the moment you drop the hammer.'
Up to 1550 litres of luggage space ticks the practicality box nicely, while AMG's monster of an engine provided quite the soundtrack.
Ferrari 365 GTB 4 Shooting Brake
The 365 GTB 4 Shooting Brake must've looked out of this world back in the 1970s, even if it did sport a set of wire wheels. There's an element of Thunderbirds about the way this car looks, while the incredible curved glass gullwing rear windows on top of the rear of the car are utterly exquisite.
Even by Ferrari standards, this car is rare. In fact, there's only one. Panther Westings, a British bodywork expert, turned the aluminium panels required to create it, while the interior was coach built by the same company.
Those rear windows are the only means to access to cargo deck, with the rear of the car actually being a single closed piece of bodywork. The front end resembles a Daytona, but has been completely restyled; in fact only the Daytona's windscreen, A-pillars and doors were retained.
Incredibly rare, could this be the ultimate unicorn shooting brake? You can read more about the car at Hexagon Classics website here.
Corvette Nomad concept
Built in 1954, the Corvette Nomad was in many ways the original Shooting Brake. Produced as a design exercise to showcase GM's vision for a sporty estate, it has an unusual forward sloping B pillar as well as a long twin-window piece of glass at the rear.
The car was a mash up of Corvette and a Chevrolet sedan, but crucially, from the front window forward the concept was all Corvette.
The car used a 148bhp 6-cylinder petrol engine alongside a 2-speed 'Powerglide' transmission. It could fit six passengers and had electrically-powered tailgate glass.
While the Nomad concept itself was eventually destroyed (manufacturers rarely had the foresight to retain concepts back then, once they'd outlived their primary purpose), the car's philosophy did eventually come to fruition as the Chevrolet Bel Air Nomad Wagon.