It's a sad (and probably sensible) fact of life that you can't really take your car to the limits on public roads these days. You could always take your car to a track day, but to do so regularly can get expensive – both in entry fees and vehicle maintenance.
The obvious solution is to enjoy driving from the comfort of your sofa with one of the many driving games available to buy now. There's a whole range – from simple car games for kids to play, to hardcore racing simulators best enjoyed with a steering wheel and pedal combo. All of them vary in difficulty too, with the more simple arcade racers being easy to pick up right away, while the more realistic car games often have a steep learning curve before you find yourself clipping apexes with the best of them.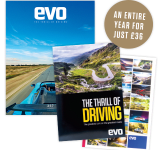 Subscribe to evo magazine
evo is 21 and to celebrate, we're returning to 1998 prices! Subscribe now to SAVE 39% on the shop price and get evo for its original cover price of £3.00 an issue, plus get a FREE gift worth £25!
> Best racing games of all time
We've chosen games to cover most of the bases – so a high-end PC or a current-gen games console should give you plenty of choice. That doesn't mean you have to immediately rush out and buy a new console, though. A lot of these games are just the latest in a long-running series. If you've got an older gaming system, try one of the predecessors – Gran Turismo 6 on the PS3 or Mario Kart Wii on the Nintendo Wii are both great games which hold up well even today.
Most of the games on this list offer some online capability, too, letting you race with other gamers around the world. But in the majority of cases, you'll have almost as much fun playing solo.
But which ones should you spend your hard-earned cash on? Here are our top ten best driving and racing games out now…
DiRT Rally
Available for: PS4, Xbox One, PC
The highlight of Dirt Rally has to be its incredibly realistic physics engine. There's a steep learning curve, and each car has authentic handling characteristics which need mastering on a variety of surfaces. It's not just quick-fire racing, either – you'll have to master endurance tracks, as well as taking car of your car with maintenance and resource management. A growing community of modders means you're not stuck with the base game forever, either.
Buy DiRT Rally on Amazon for PS4, Xbox One and PC
Forza Horizon 3
Available for: Xbox One, PC
A huge library of cars and an enormous Australian world to explore, Forza Horizon 3 is open-world driving at its best, and you'll often find yourself simply cruising around without any thought of goals or gameplay.
Gorgeous graphics help Horizon 3's case, and the physics are realistic enough that you won't be crossing muddy fields in your Aston Martin DB5. A slick and immersive online portal is also a great feature.
Buy Forza Horizon 3 on Amazon for Xbox One and PC
Mario Kart 8 Deluxe
Available for: Nintendo Switch
No, Mario Kart is absolutely nothing like real-world driving – in fact, it may be the least realistic driving game out there, with a lax approach to physics which sees karts, bikes and quads drifting at a moment's notice, chugging along underwater and even flying through the air – all the while dodging inexplicably hazardous turtle shells and banana peels. It's this crazy atmosphere, though, that makes Mario Kart one of the best local multiplayer party games of all time – and the latest version, Mario Kart 8 Deluxe on the Nintendo Switch, is the best instalment in the series so far. 
Buy Mario Kart 8 Deluxe for the Nintendo Switch on Amazon
Project Cars Game of the Year edition
Available for: Xbox One, PS4, PC
Another great game available across all three major platforms, Project Cars is impressively deep and detailed, with stunning graphics and all the variety you could possibly want. Everything from ancient F1 cars to modern prototypes is available, and each one is accurate – plus there's a range of true-to-life tracks. A series of updates and DLC has kept things fresh since launch, too.
Buy Project Cars Game of the year edition on Amazon for PS4, Xbox One and PC
F1 2016
Available for: PS4, Xbox One, PC
The best F1 sim around? Quite possibly. F1 2016 astounds with its depth, as it's packed full of official cars, drivers and tracks, and offers a truly demanding racing experience which will delight die-hard fans. On the track, the physics are impressive and a great number of parameters are affected, including tyre wear, DRS, fuel mixture and a new clutch-based start procedure. Not the best graphically, but you'll be going so fast that's unlikely to matter.
Buy F1 2016 on Amazon for PS4, Xbox one and PC
Grand Theft Auto V
Available for: PS3, PS4, Xbox 360, Xbox One, PC
Though you do spend a lot of your time in this game firing at police, committing various crimes and generally causing a ruckus, driving's been a cornerstone of the GTA series since its inception. With a vast library of realistic-looking cars (most with humorous names) and a massive overworld to drive them around, you don't even need to progress through the story to have fun playing GTA V.
Buy Grand Theft Auto V on Amazon for PS3, PS4, Xbox 360, Xbox One and PC 
Assetto Corsa
Available for: PS4, Xbox One, PC
First released as a series of early access demos, Assetto Corsa was finally released in full in December 2014 – but don't let its age put you off. With an emphasis on customisation and moddability, this game has the ability to go from mediocre to amazing with just a few downloads. Impressively accurate cars and a solid racing experience complete the package. 
Buy Assetto Corsa for PS4 and Xbox One
iRacing
Available for: PC, OS X
A subscription-based racing game might seem like madness to less hardcore racing gamers, but for the true aficionado iRacing is absolutely incredible. That's because you never have to race against a dim-witted AI – every race is against real people online, and you're able to take part in massive worldwide tournaments to really test your mettle.
TrackMania 2
Available for: PC
Another game that throws physics out of the window, stunts are the name of the game in TrackMania. It's a franchise to share with friends online, swapping tracks and showing off your creations – all while flying through the air performing ridiculous loops, rolls and flips. It's an arcade style racer, designed to be easy to pick up, and works well even using keyboard controls. Great fun. 
Gran Turismo Sport
Available for: PS4
This is a bit of a cheat, as the 13th instalment in the Gran Turismo franchise isn't due out until later this year. But no list of racing games is complete without a GT title and the previous instalment, GT 6, is getting old now. The PS4 game is described as the first in a new generation, and promises seamless online play, incredible graphics and realistic handling and physics.