How to win your dream car (sponsored)
BOTB has been giving away incredible cars since 1999, the evo team pick the models they'd love to win from today's lineup of 180 prizes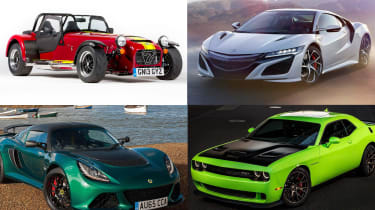 How can you make your dream car become a reality? BOTB has been giving away cars since 1999 and has delivered more than 380 prizes worth an amazing £22 million to real car enthusiasts. For a small amount of money, entrants are given a great chance to win a massive selection of seriously desirable machinery. 
Every week there's a new winner and tickets start at just £1.25. All entries cost less than a tenner, and you'll get your first go for free when you sign up.
With more than 180 cars to choose from, BOTB is sure to have a model that matches your dreams. But what if you need help deciding? The team from evo are experts and enthusiasts who have driven most of the cars on offer, so we asked them which car would be just the ticket for them, and why.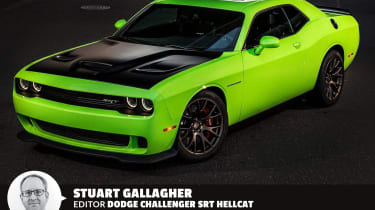 Stuart Gallagher - Dodge Challenger SRT Hellcat
Spending £5.00 on a ticket and getting 700bhp in return. That's too good an opportunity to miss, isn't it? The Dodge Challenger SRT Hellcat may not be on everyone's radar or 'must-own' list but any rear-wheel drive car with a 700bhp supercharged V8 really should be.
The SRT Hellcat isn't officially imported to the UK, which only strengthens the appeal of winning one and letting someone else go to the effort of importing it on your behalf. It's also like few other cars on sale in the UK. Yes, BMW's M4 or Mercedes-AMG's C63 S runs it close for hedonistic thrills, but the Hellcat's 3.5-second 0-60mph time, 199mph top speed and 650lb ft of torque could, no, will brighten up any mundane drive.
The 6.2-litre V8 is pure American big block muscle with a supercharger to make Mad Max weep and the eight-speed auto and rear-drive powertrain is the stuff of muscle car dreams. But then it all goes distinctly non-American muscle car when it comes to driving.
Long gone are the days of point and squirt performance. Multi-link front and rear suspension, Bilstein dampers and Brembo brakes with six-piston callipers and a mechanical limited-slip diff give the Hellcat a distinctly European chassis and driving experience.
Throw in retro-looks that work so much better than anything a European manufacturer achieves when it tries the same approach and in the Challenger SRT Hellcat you have a brilliant piece of pure automotive theatre. And that's worth the price of a ticket all day long in my book.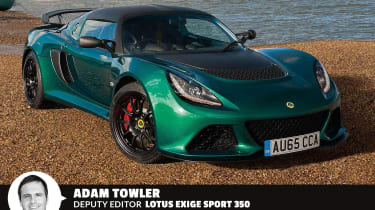 Adam Towler - Lotus Exige Sport 350 
Want to know how to convert your ticket money into a real driver's car? Go for the Lotus Exige Sport 350. A win will open the door to a driving experience unlike anything else.
The Exige may look like an Elise on steroids, but this is a very different beast to Lotus' lightweight two-seat roadster. Instead of a little four-cylinder engine nestled behind your shoulder blades, the Exige is powered by Toyota's punchy 3.5-litre V6 engine, complete with a supercharger for extra venom. It makes 345bhp, which in a car of little mass like the Exige means a 0-60mph time of just 3.7-seconds and a top speed of 170mph. It also howls away with an exhaust sound that'll make the hairs on your arms prickle. 
Yet for all its raw speed, the best part of driving the Exige is not how fast you can go down the straights, but what happens when you tackle a series of corners. Its beautifully-weighted steering is free from any artificial assistance and the superb chassis has been developed by the recognised masters of the genre. It means the Exige is outstandingly agile, focused and precise. And yet it's still comfortable enough to undertake a long journey. Given it also looks as though it has accidentally turned out of the front gates at Silverstone, it's hard to think of a more exciting road car, full stop. The Exige is the kind of car that makes any trip fun, whether on road or racing circuit. Now that has to be worth a £3.75 punt all day long.     
James Disdale - Caterham 620R
No other car on the BOTB list delivers such visceral driving thrills as the Caterham 620R. The flagship of the British sportscar brand is essentially a racing car for the road, with the performance to match. Under its slimline bonnet is a supercharged 2.0-litre engine that pumps out 310bhp, which in combination with a featherlight kerbweight of just 572kg delivers a scorching 0-60mph in just 2.8 seconds - there are supercars costing ten times as much as the Caterham that can't match that figure.
Yet it's the way the Caterham delivers its ferocious acceleration that really grabs your attention. The highly tuned four-cylinder only really gets into its stride at 6,000rpm and will scream all the way to 8,000rpm. Adding to the excitement is the sequential manual transmission, which fires up down gears quicker than you can blink and has you playing the racing driver with every getaway from the traffic lights.
Yet it's through a series of corners that a Caterham really gets under skin. The steering is razor-sharp and so quick you can almost think the 620R through bends, while the super grippy tyres and low weight mean that few cars are faster from point to point.
Of course it's noisy and there are no creature comforts (not even a windscreen), but no other car gets your heart beating faster or can paint such a large grin on your face. Given the Caterham's blend of explosive performance, acrobatic agility and racebred mechanicals, its £3.25 ticket price seems like something of a bargain.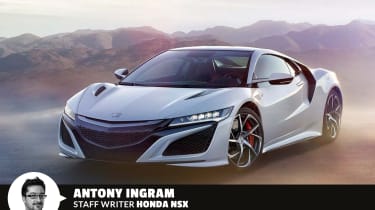 Antony Ingram - Honda NSX
You'll find faster cars. You'll find more advanced cars. You'll find cars that are easier to own, easier to service, more prestigious, more dramatic and more beautifully and imaginatively styled. 
But you might struggle to find cars that produce a more stirring, spine-tingling V6 soundtrack without resorting to electronically enhanced exhausts. Nor cars that offer such responsive, tactile performance, yet are no more difficult to drive, nor even to see out of, than a supermini. You'll find it even trickier to think of a car that did more to advance its sector than anything before or since.
I'm talking about the Honda NSX, of course. Only recently has the market come around to these cars, with pricing now climbing beyond the reach of most of us, but those in the know will fully understand this newfound popularity. A little too expensive new for a car that wears such a humble badge, the NSX applied everything that was great about Honda engineering and shaped it into a compact, two-seater, mid-engined aluminium shell. 
The result was enough to frighten more established supercar makers, who at the time were producing vehicles that were rough around the edges (step forward, Ferrari 348) or needlessly compromised by their age-old quirks (take a bow, Porsche 911). The NSX didn't necessarily out-perform its rivals, but it out-handled them, out-lasted them, and gave Gordon Murray something to think about while he doodled the McLaren F1. That a £9 ticket can get you all that is irresistible.