evo Easter essentials gift guide
Must-have gifts for the evo reader and their car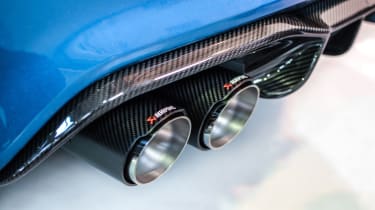 1/7
With the prospect of getting out and about as we move into summer, the petrolhead in your life might be thinking it's time to get ready for the first proper excursions of 2021.
These seven gift ideas make ideal Easter presents to help them on their way, from cleaning and protection products to get their car ready to hit the road, to dash cams and air purifiers to keep them secure and comfortable wherever they go.
Whatever your budget, there's something here to make any driver happy.
Avon Tuning
Avon Tuning is a remapping and modification upgrade specialist based in the South West of England. They offer high quality and worldwide recognised software calibrations providing a range of remapping services to suit your needs. From stage 1 remaps to stage 2 and above tuning packages, they have you covered. Avon Tuning has relationships with some of the biggest hardware upgrade manufacturers across Europe including Akrapovic, Armytrix, Armaspeed, Scorpion, Milltek and Remus. The dedicated team are on hand to help with any queries or quotations so get in touch via social media channels, phone using 01454 800117 or email directly using info@avontuning.co.uk.
GYEON Car Care
From £14 (Q2M Bathe+); from £11.50 (Q2M WetCoat) - gyeonquartz.uk/network
If you're after car care products to protect your vehicle from water and dirt, then look no further than these essential purchases from GYEON. The Q2M Bathe+ is ideal for a wash in a hurry, leaving a strong hydrophobic layer to take care of repelling grime. The Q2M WetCoat, meanwhile, gives an instant hydrophobicity booster. Simply wash and rinse your car, spray panel by panel and rinse, then admire the amazing gloss left behind.
Ceramic Blast Snow Foam
£8.95 - diamondbrite.co.uk
Diamondbrite's Ceramic Snow Foam is exactly what you need if you want to give your car a pre-wash that tackles contamination and prevents scratching. It won't harm or take off any previously applied polish or waxes, and also does the job if you need to give light dirt a swift clean. Fully biodegradable and pH-neutral, Ceramic Blast is available as a 500ml bottle. It's also straightforward to use with a snow foam lance and leaves behind a handy protective film to repel dirt and water.
Autoglym Polar Collection
£25 - autoglym.com/polarpressurewasher/polar-collection
If you know someone who loves to take care of their car, then Autoglym's Polar Collection is an ideal Easter gift. This pack consists of three Polar Series products (Polar Blast, Polar Wash and Polar Seal) in 500ml trial sizes, allowing for pre-wash, wash and protection using a pressure washer and lance. Combined, the Polar Collection will give a thorough and gentle car clean so it's ready for the road.
Nextbase 622GW Dash Cam
From £219 - nextbase.com
A good dash cam is an essential purchase. It provides a handy extra eye when you're on the road and can be extremely valuable when it comes to reducing insurance premiums. Nextbase's 622GW has great features on offer, from 4K video recording to digital image stabilisation and Alexa. You can even pair it with the Nextbase Rear Window Camera for an extra layer of security. Plus, there's the 64GB U3 microSD card to give you extra video file storage.
Rimfinity Wheel Protection
Get continuous-band wheel-protection with this offering from Rimfinity. Designed for performance and safety, this UK-produced product gives class-leading protection and style for both alloy and steel wheels, be they classic or modern. They're available in either red or black, and Rimfinity is wheel size specific, ensuring you'll get the very best fit and function.
Philips GoPure Air Purifier
£119.99 - drivesafeandlegal.co.uk/gopure
When you're driving the last thing you need is pollution or pollen making life uncomfortable. Fortunately,  the new GoPure from Philips is an easy-to-fit 'plug-in-and-play' vehicle air purifier that will help you breathe easy. It uses HEPA and HESA filtration in a triple-layer system to remove everything from exhaust gases to cigarette smoke, bacteria, allergens and viruses. With the GoPure installed the inside of your vehicle cabin will have fresh and clean air, leaving you free to focus on the road.