evo's unforgettable road trip to the 2015 Le Mans 24 Hours – evo Archive
Road trips to Le Mans are always a good time, but the boys ran into a little more fun than they were expecting on this trip in 2015...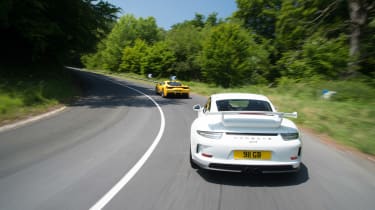 'I'd bought a CD with the Michel Legrand soundtrack to the 1971 film Le Mans. It's quite hard to find actually,' says Adam Towler, clearly still quite pleased with his purchase, six years later. 'Anyway, I'd transferred it to my phone, hooked that up to the 991.1 GT3, pressed play and I pulled out of the driveway as dawn broke. Driving off down the road, the operatic first salvo of the flat-six filled the cabin and was then joined by the opening chords to the film's introduction: the bit where the crowd starts to arrive and the atmosphere builds. Just thinking back now makes the hairs on my neck stand up…'
Would have been better if you were going to Le Mans.
'We were.'
I thought you said Rouen?
'Yes, but, that was on the way to Le Mans.'
Ah. So when did you meet the prostit…
'Don't spoil the moment! Where was I? Oh yes, sunrise, soundtrack… It was my first big road trip with evo and I was meeting Dan Prosser, our road test editor at the time, and Hunter Skipworth, our then website editor, who were in a yellow 458 Speciale. Our brief was to provide a film of the trip to Le Mans, but also to do some race reporting from the 2015 24 Hours. Anyway, we caught the Eurotunnel and then set off through France, heading for the old Grand Prix track at Rouen-Les-Essarts. It's always been a favourite stop-off of mine because when you stand by the road and let the mind wander back, primed with period imagery, you can really get a feel for how fast, exhilarating and deadly it must have been to drive a Type 49 Lotus around there.' I can picture the scene. Beautiful.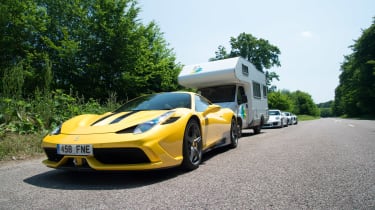 'We set out on a lap, rounded the Nouveau Monde hairpin and stopped out on the fast back section, near what would have been the Gresil corner. Dan was fronting the video and disappeared into the undergrowth with filmmaker Sam Riley, leaving Hunter and me kicking our heels roadside. 
At this point I'm reminded of the old Barry Sheene phrase: "If the caravan's rocking, don't come knocking," as it dawned on us that the dishevelled mobile dwelling parked in our layby was for "commercial purposes" of a specific nature.
The sound of Hunter joyously blasting up and down the old back straight in the Ferrari must have put the client off his, er, game, and a rather irate, semi-clothed French madame suddenly appeared in the doorway, yelling in our direction, closely followed by a rather sheepish-looking gentleman. Of more concern though was the giant, slobbering Alsatian she seemed to keep as a pet, who was straining to take lumps out of Hunter and me. For a split second I thought of Dan and Sam, earnestly filming their piece to camera, and may even have croaked a faint "Dan" in their direction…' 
Like Alan Partridge? Sorry. Keep going.
'…before legging it as fast as possible back to the GT3, locking the door behind me, and getting out of Dodge PDQ.'
Is that why Dan flew home?
'No, he was just on a manufacturer ticket for the way back. I think.'
You abandoned him, didn't you?
'Anyway, after the 24 Hour race, Hunter and I drove the two cars back to the UK and we stopped at some services on the autoroute, as you do. The place was packed with fans returning from Le Mans, and they flocked around the Ferrari in particular. Hunter, being a generous soul, offered one young lad the chance to sit behind the wheel. What I hadn't realised was that he'd also fired the engine for him and the kid unwittingly floored the throttle as he climbed in. The V8 yelped off the limiter like an Alsatian with its tail trodden on and scores of people jumped out of their skins. If he'd hooked first as well, we may have had Interpol after us.'
I'm sure someone must have at least flicked you the Vs, Steve McQu…
'Yes, thank you. I got the reference.'