If you've spent any time nosing around under bonnets, crawling under cars and poring over engine bays at any race meeting, whether that's from club level up to the highest echelons of motorsport, you'll probably have come across some white exhaust manifolds. The bright, clinical finish is often in stark contrast to the other oily, shiny metallic engine components, but there's very little doubt about how truly incredible it looks. That's because, just like all the best looking parts of race cars, the finish is functional. It isn't just a blast of matte white paint, but a ceramic coating that reduces the surface temperatures of hot components and can protect elements that are at risk of overheating.
It's more than likely that every time you've spotted some ceramic exhaust coating it's been applied by Zircotec. The Oxfordshire-based company adapted a process that was used to help manage heat in nuclear reactor cores and applied it to motosport applications. Zircotec worked with Prodrive initially, when it was running Subaru rally cars driven by Ari Vatanen and Colin Mcrae, before helping F1 teams. Zircotec's coating is a 0.3mm thick layer made up of zirconia ceramics, and works by creating small pockets of air within the thin layer and, because air is a poor conductor, it stops much of the heat getting through.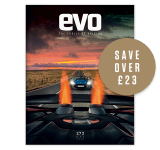 Subscribe to evo magazine
Subscribe today to have every issue of evo delivered straight to you. You'll SAVE 39% on the shop price, and get evo for its original cover price for a whole year!
> 20 years since Colin McRae's WRC victory
As well as covering metal exhaust manifolds, whether they're made from steel, titanium or any other metal, Zircotec has managed to apply its coating to composite materials like carbonfibre, too. No mean feat when you consider the application process or more similar to welding than spray painting. This expands the use of the material massively, a thin lightweight ceramic coating stops it delaminating if it's used in high temperature situations like the brake ducts on an F1 car.
In more recent years both car manufactures and aftermarket tuners have seen the potential in Zircotec's coatings and the ceramic coating is applied to more visible, decorative parts of cars that still need protecting, like exhaust tips. These exposed applications have persuaded Zircotec to expand its colour range from white and black to 14 other colours.
> How to choose the best aftermarket alloy wheels for your car
Legislation may start to dictate how often you see a ceramic coating, too. There are current discussions surrounding the protection of carbonfibre wheels from the heat generated by brakes – Zircotec's coating can protect the fibre and resin material from degrading after being exposed to high temperatures. The practice could become essential for the safety and longevity of similar wheels.
It's Zircotec's Performance White finish that's not only its most iconic, but it actually provides the best thermal barrier and can withstand tempertures up to 1400 degrees centigrade – Zircotec's coloured finishes can cope up to 900 degrees. We followed the process of Performance White being applied to an exhaust manifold and downpipe. 
Either brand new or used components can be covered with a ceramic coating as each item has to go through a rigorous preparation process. Firstly, any holes in the object need to be blanked off or plugged, and any surfaces that don't want to be coated – like the internal slip joints or the mounting face of a flange plate on an exhaust manifold – need to be masked. The area is cleaned with a strong detergent and heavy-duty masking tape is applied by hand. The masking material has to be very durable to withstand the next stages in the process.
To prepare the now exposed areas for the coating, the metal is sandblasted to remove any dirt and grime as well as create the ideal surface for the bond coat to adhere to.
Before the actual ceramic coat can be applied a metallic-based bond coat is sprayed onto the surface. This layer ensures the outer ceramic substance properly adheres to the surface. It's applied in a similar manner to the ceramic layer using the same water-cooled gun.
The ceramic coating is then applied with a plasma jet onto the bond layer. A torch fires the zirconia ceramics at the surface at high speed. Like welding, an inert gas is used to stabilise the area being worked on, argon shields the are the ceramics are being fired at the surface from oxygen.
If one of Zircotec's colours has been chosen as the finish, rather than simply white, it's then applied after the base ceramic coating.
The bond coat and ceramic application is automated for items that are simple in shape and that Zircotec coat frequently. A robot arm fires the same ceramic material as the hand-held gun but can be more efficient and faster – complicated one-off items like many exhaust manifolds need the skill and eye of a human to get right.
> How to prepare your car for a track day
Once the ceramic coatings have been applied each part goes into the inspection and finishing area where the masking tape is removed and the items are packaged up to be collected or sent for delivery.
The application process of Zircotec's ceramic coating is more arduous and intensive than you'd initial suspect, much like the way the single-colour finish cons you into thinking it's merely paint. But then adding a substance that can endure thousand degree temperatures to the surface of metal or carbonfibre that also blocks 33 per cent of that heat from passing through it, even though it's only a few microns thick, you didn't expect that to be easy now, did you?