Buying guide: Caterham R300, R400 & R500 (2008)
They can run rings around a supercar, yet an 'R' Caterham could be yours for as little as £18K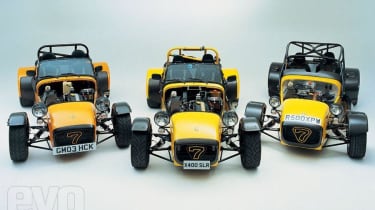 Now may not seem like the most obvious time of year to go looking for a car quite so exposed to the elements as a Caterham, but that's exactly why you should. By the time the warm rays of high summer are back with us everyone will want one, and increased demand always means inflated prices and reduced availability.
Far better, then, to bag yourself a good deal now. Besides, as long as you're suitably attired, driving a Seven out of season can be hugely entertaining. Where other cars with similar power-to-weight ratios can become a handful in greasy conditions, the Caterham revels in them, the low grip levels allowing you to fully exploit the progressive chassis and intimate steering. As a tool to either learn or develop car control skills, there's nothing better.
Today Caterhams are Ford-powered, with a mix of Sigma and Duratec units across the range. However, from the mid-'90s until the demise of Rover led to the Ford engines being phased in, it was the K-series that ruled the roost. It was relatively light, well packaged, easily tuned and enjoyed revs, making it ideal for a lightweight sports car.
There were numerous engine, suspension and trim options over the years, all of which could be mixed and matched, but for this guide we're going to focus on our favourites: the raw, road-prepared yet trackday-ready 'R' models.
We've run both an R300 and an R400 on our long-term fleet, while the R500 won our very first Trackday Car of the Year test back in 2001 (evo 036) and the Evolution version still holds our second fastest lap time at the Bedford Autodrome. Should you need a more sensible reason to buy one, think on this: due to their fanatical following, Caterhams have always been very slow to depreciate, helping to make the overall cost of ownership very low. Buy one second-hand, run it for a few years, and you'd be unlucky to lose more than a couple of grand, and there are very few cars that you can say that about.
Caterhams really do make financial sense, particularly if you buy one right now. Here's what you need to look out for…
Caterham R300, R400 and R500 checkpoints
Extra Info
Just 75 R500s were sold before production of the K-series-engined 'R' models ended in 2006, although in the context of Caterham's overall output of around 500 cars per year, that's no small achievement. There was also a handful of R500 Evolutions built in 2004. With an enlarged 1998cc engine developing a whopping 250bhp – giving 552bhp/ton – we managed to lap one round the Bedford Autodrome's West Circuit 2.3sec faster than a Ferrari Enzo!