On September 3rd 1935, Sir Malcolm Campbell set the first flying mile record on the Bonneville Salt Flats near Salt Lake City in Utah at 301.13mph with Bluebird. Powered by a 2500bhp Rolls-Royce V12, he broke the World Land Speed Record and became the first man ever to travel at five miles per minute. This August, I will be attempting to break the Land Speed Record for a 1-litre forced induction motor at 314mph or just a fraction over 500kph. In the process, I will be aiming to become the seventh Brit to enter the exclusive Bonneville 300mph Club after Sir Malcolm and Donald Campbell with their Bluebirds, Captain George Eyston with Thunderbolt, John Cobb with the Railton Mobil Special, Richard Noble with Thrust and Wing Cmdr Andy Green with the JCB Diesel Max. A pretty exclusive group! The Bonneville Speed Week has been held annually since 1949 and allows 'Hot Rodders' from all over the World to come, and subject to passing a technical inspection, run as fast as they can down the Salt and if they can overcome the issues of traction, engineering and find that perfect run and break a class record at over 200mph they will earn the prestigious 'Red Hat' of the Bonneville 200mph Club. While over the past 60 years around 650 people have managed this, only 80 people have broken a record over 300mph to be awarded the exclusive 'Blue Hat' and a South California Speed Association 'UNLIMITED' licence. Our project, known as 'Speed Scotland - Target 500' came about when we first heard whispers that having installed a turbo motor into their Streamliner, the Land Speed pairing of Terry Moreau and Don McBride were both retiring from the driving seat feeling that the car needed a younger man to realise its potential. Having shaken it down at 265mph Terry stepped aside and offered us the project, on the proviso that I could fit in the car! So at the end of June, clutching my crash helmet, I spent 20 hours each way on a plane for a seat fitting and to meet the 'Flower Of Scotland' streamliner. Having changed planes more times than I could count, I arrived in Spokane in the State of Washington in the Pacific Northwest accompanied by the Speed Scotland crew chief, Derek Palmer.
The first shock was just how tiny the car is: Sitting alongside it on the tarmac, it's not obvious how anyone over the age of 12 could fit inside and Terry's warning that I was two inches taller than the design was created for wasn't encouraging. With the sunshine sparkling on the metallic paint, a specially mixed shade known as 'Flat-Out Green', 22 feet long, but just 21 inches wide, the pencil-like Streamliner was built and developed over a 16 year period. Arriving at today's specification with a 300bhp version of the Kawasaki Ninja engine running 20psi of boost and melting several kilos of ice from the onboard tank in every three-minute run. Running on methanol, it's been constructed with just one target in mind, to be the fastest 1-litre car in the World.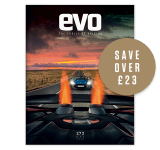 Subscribe to evo magazine
Subscribe today to have every issue of evo delivered straight to you. You'll SAVE 39% on the shop price, and get evo for its original cover price for a whole year!
Read Rick's first blog update via the evo Community So, moment of truth - crash helmet on, lift up the dashboard and climb in. Dropping into the car and the effort of wriggling the shoulders into place plus hauling myself up into the reclining position winds me slightly, then with chin jammed onto chest I can't breathe easily and there is a flash of panic. Trying to remain calm: I've never suffered from claustrophobia before and I'm not intending to start now, I get the breathing under control, but the sensation is unpleasant to say the least. Could my dream of a Land Speed Record be ending right here and now?
I try and sit tight. We walk through the engine start-up sequence but the sensation of having an 11,000rpm motor the other side of a resonating chamber (the ice tank forms the back of the seat) makes me cough, once again causing a wave of panic as I struggle to replace the oxygen in my lungs. But blipping the throttle myself I soon forget this and finally find a (relatively) comfortable position. Although with helmet jammed against the roll bar padding at the top and my chest at the bottom how I am going to squeeze the compulsory HANS device into the mix remains a mystery we must solve on the salt in August. And in August you will be able to follow Bonneville Speed Week live on evo.couk. I'll be blogging everyday about our progress as I attempt to obtain my licences for each speed stage from Category D (125- 150mph) up Unlimited (over 300mph) and then make the crack at the I/BFS record (I = sub 1-litre/ BFS = Blown, Fuel, Streamliner). That would make evo the fastest guys ever with a 1-litre car. So join us here for tech inspection on Friday August 13th! Read Rick's first blog update via the evo Community