The gods appear to be smiling on us. An eye-squintingly bright yellow blob has clambered its way above the horizon and the heavy overnight clouds have finally lifted to reveal a promisingly azure colour scheme. Long, autumnal shadows are now being thrown over Cadwell Park's small upper paddock, and on this leaf-strewn tarmac strip a motley collection of transporters are slowly disgorging their contents. The captivating mix of emerging shapes dispels any lingering sleepiness. Laid out in front of us are the best new trackday machines of the year, while the UK's 'mini Nürburgring' is all ours until the sun completes its arc and the Wolds become cloaked in darkness once more. Welcome to Track Car of the Year 2010. This should be fun. Some of the shapes are completely new, some as familiar as your favourite pair of old race boots, but all are pure trackday machines. In past years we've included everything from hot hatches to supercars in our annual round-up, but as Cadwell has already been visited by the main eCoty group we're breaking from tradition and keeping things pure this time.  This new format has effectively turned this test into a battle of the Brits, for no other country has such a large industry based around the thrill of circuit driving. All these machines are affordable, lightweight and way faster than road cars costing at least twice as much. They are all produced with the sole aim of providing joy and entertainment by the bucket-load, irrespective of driver ability. And speaking of ability, this year's judging panel can lay claim to victories in the 24-hour races at Le Mans and Daytona, race wins in the BTCC and a Nürburgring lap record. Sadly none of those achievements is mine, though I did once nearly win a race at Cadwell in a Radical SR8, so at least I know which way the track goes. Which gives me some sort of advantage over Andy Wallace. He says he'll need a couple of sighting laps to refresh the memory banks as he hasn't been here since 1984. Mind you, the 1988 Le Mans winner did score his first ever race win here in '81. 'This paddock was all grass back then, and I think I pitched my tent just there,' he says, pointing at where Phil Bennett is standing. 'Flat-out Phil' has more recent experience of Cadwell's twists and sharp elevation changes – in between his racing and Ring-record duties he used to treat evo trackday attendees to the fastest passenger rides of their life here. We won't be setting any lap times today. Instead we'll be judging the cars purely on how entertaining they are to drive. Despite their vast experience, both Andy and Phil are looking forward to getting stuck in as much as I am, and the Chevron GR8 catches Phil's eye as it's lowered on the tail-lift. At close quarters it's smaller than I expected it to be – like it's been built to 7/8ths scale – but it looks every inch the hardcore racer. It is perhaps the most extreme of our group, although the equally diminutive Ginetta G40 alongside could well have something to say about that, particularly as it can also be raced by anyone in the Ginetta Junior Championship. As long as you're between 14 and 17 years of age, that is.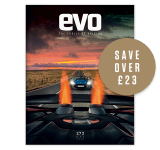 Subscribe to evo magazine
Subscribe today to have every issue of evo delivered straight to you. You'll SAVE 39% on the shop price, and get evo for its original cover price for a whole year!
That pair look like they were designed with Cadwell's narrow track in mind, and our third contender won't have any problem with the lack of width either. The Lotus Exige is one of only two cars that were actually driven to the track this morning, and its highway useability is something we should exploit while we still can, for production of the Exige is about to come to an end (same goes for the Elise R and SC). Euro 5 emissions regulations are to blame. This Roger Becker special edition – named after the recently retired director of vehicle engineering who was instrumental in the development of the Exige and effectively defined the Lotus ride and handling we know and love today – is a final hurrah for the Series 2 car that has been part of these yearly tear-ups since 2004.  Lurking behind the Becker Special are two machines that have been winding up supercar owners since what seems like the dawn of time. Caterham has introduced R500 suspension and detailing to the R400, and since the 400 offers perhaps the best mix of power and handling of all the R cars, it should be in with a shot of top honours. Westfield may have something to say about that, however, and its latest contender, the Sport Turbo UK255, comes with turbocharged Vauxhall VXR power. Expect no punches to be pulled.  With the cars ready, it's time to put a lid on. The track is drying, but it's a slow process at this time of year and the greasy section under the shedding trees of Hall Bends and Barn looks particularly treacherous, so I plump for the only car here with ABS and traction control: the RB Exige. It's also fitted with the fastest of the Toyota 1.8-litre options, the 257bhp supercharged 2ZZ unit, and comes fully specced-up with the Sport Pack, the Touring Pack and the Performance Pack (bringing, respectively, sharper handling, extra comfort and increased power), plus lightweight forged alloys and the structural shear panel fitted to the Cup car that increases the lateral stiffness of the rear subframe by 30 per cent.  I've made the right choice, for this Exige finds grip everywhere, even on the slippery bits. It's just soft enough to find bite through Hall Bends but doesn't roll or pitch excessively on the high-speed dry section of Coppice and Charlies. It's an intimate experience, with a superb level of feedback that soon gives you the confidence to wind the adjustable traction control off completely and drive right up to (and over) the limits – even in the quick, scary sections. It'll generally understeer first, but a well-timed lift will pivot the rear around the nose and then it can be balanced with a decent whack of supercharged power. The real kick from the engine is towards the top end of the rev-range, but the power-band is wide enough to allow you to run a higher gear through a corner should you wish – a technique occasionally employed by Wallace. 'The shift from second to third is particularly vague and awkward,' he says after his laps, 'so in the end I left it in third for the tight stuff.' Other than that he is mainly very impressed. 'Despite being totally road-legal, with impressive fit and finish, it becomes a proper trackday car when you leave the pit lane,' he says. 'You can chuck it around and carry good speed into all the corners, and it's easy to adjust your line if you get too greedy. It's a shame the brake pedal is over-servoed, though.' He's right. Modulation of the brakes is tricky and the ABS cuts in too early, partly due to the oversensitive nature of that servo. Bennett reckons the Exige is at its most compromised on the wet sections, which is  where it should shine. In fact Phil has a bit of a downer on the Lotus. 'I know many are going to disagree, but the Exige isn't enough for me on track,' he says. 'Its road ability may make it a good all-rounder, but out here it loses focus. I would prefer something that's more extreme, even if that means it's more uncomfortable on the road. The 260 Cup is closer to what I'm after.'
The Westfield Sport Turbo has also been designed predominantly for road use, with the odd trackday thrown in, so its set-up is a little softer than ideal, but perhaps surprisingly it still finds a friend in Phil – mainly because of the way its engine dominates proceedings. 'The motor is very strong but still driveable,' he says, 'and the noise reminds me of an old BTCC RS500! It'd be great to drive at night because there are flames on the overrun.' The Sport Turbo's engine is a 1.6-litre Vauxhall VXR unit running 1.5bar of boost and producing 225bhp – enough to turn a 620kg machine into something of a dragster. You fly through the gears so fast you often have to enter a corner a gear higher than you would in anything else, because otherwise you'd run out of revs before the exit. Unfortunately those corners can't be attacked quite as hard as you want, as the slack in the suspension has to be absorbed and the nose has to settle before you can get heavy with the throttle. Understeer is the order of the day, and getting aggressive with the power eventually results in an uncomfortably violent snap into oversteer. The set-up can be modified, though, because the car has fully independent, adjustable rose-jointed suspension, so it shouldn't be dismissed. The Sport 225 does a different job to its Caterham counterpart – it's significantly cheaper and would leave the R400 for dead in a straight line. But not over a lap. The Caterham is another old-stager but it has never stopped evolving. Originally the 400 had a Rover K-series motor, but today it comes with a 2-litre Duratec lump with more power (210bhp) and plenty of guts all the way across the rev-range. It now gets a dry sump as standard too, and this car is even fitted with keyless ignition, proving that Caterham will go to any length to save a gram or two. It also has the carbon dash and, more significantly, the dampers from the R500. The R400 was the other car driven to the track, although the hardy crew did have a windscreen and doors for the trip. Those have now been left in the paddock and replaced by a small aero screen. Perfecting the set-up is crucial on a Caterham as it's so easy to alter the balance, and this one is just about spot-on. It means you can attack corners any way you like: fast and smooth, or for more fun just lob it into the turn and steer it on the ultra-keen throttle. Drive the R400 in a less outrageous manner and it'll turn in with the usual crispness and sit there in a state of neutrality as if waiting for you to decide what you want to do next. The common trait of high-speed understeer is evident through Coppice, but with warm tyres and a slug of nerve this fifth-gear climbing left-hander can be taken completely flat-out. Phil seems to spend whole laps sideways, but that doesn't stop him finding some irritations. 'The pedal box could do with some work,' he reckons. 'The throttle and brake pedals have to be perfect as with this high state of engine tune the initial stab in heel-and-toe downchanges can choke the motor.' Andy didn't find the R400 quite as fluid as the Exige and also observes that it 'wouldn't be much fun in the rain unless you like getting drenched!'You'd be okay inside the Ginetta in the rain, although unless you're pint-sized like Andy, clambering aboard the G40 is a tricky business. But it's worth it. There's a tangible sense of integrity that was missing from the earlier G20. Like the bigger, more powerful G50, it feels like a bona fide race machine.  The driving position is perfect, the detailing and ergonomics impressive, particularly for a 'junior' car. It has a large brake pedal that's very firm underfoot, a sequential five-speed Quaife gearbox and is the only car of the group that arrived on slicks. At £29,400 as tested it's good value, but it won't be setting any outright lap records, for its motivational force comes from the ageing 1800cc Ford Zetec motor that's good for only 150bhp. That in itself wouldn't be a problem if the level of grip matched the power, but the Ginetta's hold is merciless. You end up diving harder and harder into the corners until the car starts to move, and then things get interesting because, as Andy says, 'without the power under your right foot you can get into a bit of a mess mid-corner if you need a stab of throttle to correct.' And he should know: our three-time Daytona winner spun it! I'm convinced there's a very good chassis underneath it all, though. The overall balance is right, the steering is accurate and as a training tool it does a very good job – it's an easy machine in which to perfect left-foot braking and it promotes smooth driving. However, as a trackday driver you feel restrained when you want to cut loose.  
You can have it with more power (Ginetta reckons it can handle 300bhp), but as it is even novice track drivers would soon want more. If you don't go for extra grunt, we'd recommend forgetting the slicks and fitting it with low-grip fuel-saving tyres instead. The Chevron doesn't have a power issue, for in the middle of its steel-tube frame sits a Cosworth-tuned 2-litre Duratec lump pushing out 255bhp through a five-speed sequential Hewland transaxle. Created by Vin Malkie, the aim with the GR8 was to produce a modern version of Chevron's iconic B8, and sitting aboard this similar-scale machine I think he's achieved it. I drove a B8 a few years back and from the driving seat the GR8 does feel very similar. Your backside is an inch from the deck and the view through the low-raked screen is almost identical. In fact the main difference is that your surroundings feel more substantial – where the delicate B8 felt about as robust as thin cardboard, the GR8 offers modern levels of security. It's very bare inside, with nothing that adds weight, not even air-con or a heater; you get the feeling they'd have done away with the steering wheel too if they could have found another way of turning the car. The GR8 is comfortably the quickest of our group but it's also the most intense. You really are at the heart of the action – there's no slack in anything it does – and while the engine doesn't produce the most cultured soundtrack, it envelopes you in its angry, rip-snorting bark. With a career built in Sportscars, Wallace feels at home in the GR8. 'It's very stable in the quick stuff,' he says. 'It feels like it's producing some useful downforce and there's good turn-in, excellent traction and it's very stable under braking.' Any negatives? 'On the wish list would be a flat-shift sensor.' (This would automatically ease the power on full-throttle clutchless upshifts for a smooth gearchange.) Bennett concurs, but adds that the front end is so sharp that the rear occasionally has trouble keeping up. He'd prefer more linearity in the throttle travel too. These are things that can be tailored to suit each individual driver, and the fact that our judges are getting picky is a sure sign that they're impressed. It's time to choose a winner. The overall view is that this is a strong group of cars offering markedly different ways of scratching that trackday itch. Ultimately the Westfield and Lotus find themselves towards the bottom of the order, mainly due to the road compromise diluting the final level of detail and interaction. The Exige shades the Sport 225 because of the way it flows around a lap – its precision soon becomes addictive. However, if you want a cost-effective ballistic speed rush, look no further than the Westie. The Ginetta G40, meanwhile, is a frustrating experience, as a potentially great little car is being held back by a listless engine.  Up at the sharp end are the Caterham and the Chevron, and while the R400 is the definitive expression of front-engine rear-drive entertainment, it doesn't offer anything new or significantly move the marque forward.
The Chevron does, though. It may be the most focused, the most expensive and perhaps a touch exuberant for trackdays, but the GR8 delivers on every level, from the way it looks to the way it sounds and goes. It's individual and manages to mix '60s retro with the demands of today's trackday driver. It was the most compelling contender in this year's test from the moment it was lowered onto the Cadwell tarmac, and it's our Track Car of the Year.