Dream garages for mere, average-earning mortals are an intangible fantasy. The list reads both long and varied, with Ferraris, Porsches and Lamborghinis featuring alongside other illustrious names from the automotive present and past. For a very wealthy few, however, the problem of how to populate a mind-blowing collection of dream cars is real, and when these like-walleted individuals come together at one of the world's top car auctions, prices can sail into the stratosphere.
The prices paid can make for eye-watering reading, but sometimes things escalate to a whole new level and we find ourselves looking at one of the most expensive cars ever sold. Here we take a look at the incredible cars that have seduced buyers into paying top dollar in a one-upmanship-fuelled, auction environment.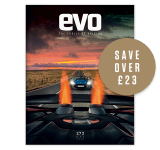 Subscribe to evo magazine
Subscribe today to have every issue of evo delivered straight to you. You'll SAVE 39% on the shop price, and get evo for its original cover price for a whole year!
Despite extortionate prices, these examples of car design are investments for some and status symbols for others. Below are the most expensive cars ever to be sold at auction...
(all prices approximate due to variances in conversion rates)
1. Ferrari 250 GTO (1962) – £37,240,144
Sold in 2018 at RM Sotheby's Monterey sale, this Scaglietti-fettled Ferrari 250 GTO became the world's most expensive car ever sold at auction, solidifying its place as the poster child for the expensive automobile.
Considered to be 'the world's most important, desirable, and legendary motor car', this example was one of just 36 GTOs built. It is said to be the most authentic and original of all 36, and to top it off, is one of only four upgraded by Scaglietti with its most aggressive and successful additions. Aside from this, it has a rather colourful racing history, too, holding over 15 class and overall wins to its name during the 1962-1965 seasons.
2. Ferrari 250 GTO (1962) – £31,669,317
Sold at the Bonhams Quail Lodge auction in 2014, this GTO held the title as the most expensive car ever sold at auction until the above example took its place.
Coachbuilder Scaglietti penned the stunning body that's often hailed as one of the most beautiful Ferraris to emerge from Maranello. The car itself was created to compete in the FIA GT World Championship and won the world title two seasons consecutively, piloted by Jo Schlesser/Henri Oreiller, Paolo Colombo, Ernesto Prinoth and Fabrizio Violati.
3. Ferrari 335 S (1957) – £29,268,961
Clearly well-cultured when it comes to cars, Lionel Messi was the proud procurer of the third most expensive car sold at auction. Built in 1957, in a golden era when nothing short of a 12-cylinder configuration was deemed worthy of a Ferrari, the car boasted a mighty four-litre V12 engine.
The design brief for the 355 S was simple – beat the Maserati 450S. It was the eventual runner-up in the gruelling Mille Miglia, and averaged a staggering 124mph on a lap of the Circuit de la Sarthe. 
4. Mercedes-Benz W196 (1954) – £24,994,480
Juan Manuel Fangio's W196 that sold at Goodwood FOS in 2012 is no manicured show pony. It crossed the auction block bearing the battle scars it had garnered on its way to victory at the German and Swiss Grands Prix during the 1954 Formula 1 season.
Despite being half a century old, the Stuttgart-born racer incorporated very cutting-edge technology for the period. Integrated within the rigid space-frame chassis was a fuel injected 2.5-litre engine which propelled the no. 12 car to championship victory in 1954.
5. Ferrari 290 MM (1956) – £23,277,743
Rewind two generations from the Ferrari 335 S and you'll find the 290 MM. Another Scuderia brainchild, this example was one of the quartet that rolled off the production line. The car raced for almost a decade, escaping a fatal end before being retired in 1964 having competed in the 1000km Buenos Aires.
6. Ferrari 275 GTB/4*S NART Spider (1967) – £23,222,347
Luigi Chinetti, head of NART (North American Racing Team), wanted to bring a slice of home with him to America. He just about convinced coachbuilder Scaglietti, and thus Ferrari, to build him an allocation of ten cars for stateside life.
This gorgeous roadster drew the multitude of potential suitors into a bidding frenzy with RM facilitating the multi-million dollar acquisition in Monterey, California.
7. Ferrari 275 GTB/C Speciale (1964) – £21,936,705
Yes, the prancing horse theme continues. Another take on the elegant design of the 275 Scaglietti-conceived body is the GTB/C Speciale edition. An array of modifications were imparted upon the 250 GTO successor, louvres, intakes and a bonnet scoop being just a few – tailoring it in a race-ready frock.
Only three of these handcrafted aluminium-bodied cars were realised, and just one of the trio made it to competition due to a dispute between Ferrari and the FIA over the homologation of the car in reference to its weight. This specific example has only competed in historic events as a result of its exclusion from period racing.
8. Aston Martin DBR1 (1956) – £18,096,282
On 19 August 2017, this DBR1 sold for almost £20m at RM Sotheby's Monterey auction. The very first of the five models ever made, it won the 1959 Nürburgring 1000km, was piloted by none other than Stirling Moss, Jack Brabham and Carroll Shelby to name a few, and is considered to be the most important model in the history of the British marque.
9. Ferrari 290 MM (1956) – £17,238,070
It might not be a 250 GTO, but this 290 MM still has some rather impressive accolades to its name, as its sale price suggests…
Having claimed podium places at the Mille Miglia and 1000km Buenos Aires as a Scuderia Ferrari team car, being raced as an official Scuderia Ferrari Works car for the 1956 and 1957 seasons and being the final one of just four cars built, only three of which survive today, it's easy to see why it made it to this list.
10. Duesenberg SSJ (1935) – £17,233,775
Though the oldest of any machine on this list, the Duesenberg SSJ packs some surprising punch – powered by a front-mounted 6.9-litre supercharged eight-cylinder, it puts 400bhp to the rear wheels.
As impressive as they are for the period, specs aren't the sole reason it sold for the price of a small village. This Duesenberg SSJ is one of just two examples built, was originally sold to Hollywood actor Gary Cooper, and was presented in unrestored condition, complete with its original chassis, engine and bodywork.