Ferrari trials new steering technology
Ferrari has patented a new innovation said to improved steering accuracy. Details here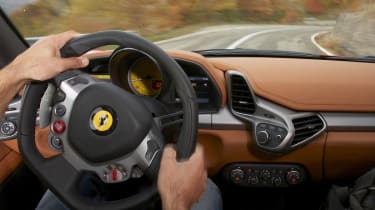 Ferrari has been granted a patent on a steering system that could promise greater accuracy than ever before.
The new patent describes a system that is designed to reduce the inaccuracy and inconsistent feedback inherent in existing steering setups - potentially making the next generation of sports cars steer with greater precision than those available today.
It works on the basis that in a regular steering setup, the combined effects of a steering box and universal joints in the steering column linkage result in a 'transmission error' between the driver's input on the wheel and response at the front wheels. Essentially, as the driver turns the wheel the column and linkage have to take up initial slack - however small - before the input is registered by the wheels.
This transmission error also results in inconsistent effort needed to turn the steering wheel with a given force. The patent also notes that the steering geometry of current vehicles also leads to differences in effort according to whether the driver is turning left or right.
Ferrari's patent details a setup that eliminates this transmission error and minute variances in steering effort. Software calculates the angle and torque applied to the steering wheel, data which is then sent to an electrical servomechanism to apply proportional force to the steering system itself. The connection to the wheels is still mechanical, but the power assistance setup compensates for that "transmission error" and the variances in forces that result.
The patent notes that due to the way the system is set up, the driver 'perceives' the same effort as they would were the system not in place - but the effort itself is more consistent. Ferrari says the system is simple and inexpensive to implement as the physical steering hardware remains the same, while the software requires neither large processing power, nor large reserves of memory.
What such a system means for actual driver feedback is unclear - the patent states that in the system described, 'the driving perception perceived by the driver is not always optimal'. Ferrari remains tight-lipped on the system as far as future road cars are concerned, stating that it 'does not pass any comments on patents registered', and that there's no guarantee patented systems will appear on any future Ferrari road cars.