Back in 2009 the Ferrari 458 Italia emerged from the famous factory gates in Maranello to replace the F430. Its ancestry reaches all the way back to the late '60s Dino, the car named after Enzo Ferrari's son that forged the concept of the 'junior Ferrari' and introduced the mid-engined platform to the brand. The 458 was the 9th model in the sequence the Dino initiated and was superceeded in 2016 by the 488 GTB.
Cocooned in a slender exterior the 458 was anything but the junior Ferrari. The glorious 4.5-litre V8 produced 562bhp at a dizzying 9000rpm, capable of catapulting the 458 from 0-124mph in a 599 GTB usurping 10.4sec, then on to a 202mph top speed. The 430 Scuderia's track credentials and 135kg advantage weren't enough to maintain supremacy at Ferrari's Fiorano test track, the 458 lapped quicker wearing regular road tyres.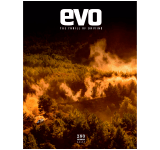 Subscribe to evo magazine
Subscribe today to have every issue of evo delivered straight to you. You'll SAVE 39% on the shop price, and get evo for its original cover price for a whole year!
This was the result of Ferrari going for gold in every department. The 458 represented a quantum leap in technological terms, bringing a hoard of new systems into play to create an enveloping, pure driving experience.
> Click here to read our Ferrari 488 GTB review
Ferrari 458 in detail
The screaming V8 – put on show for all to see – was a masterpiece, with a 12.5-to-one compression ratio, direct injection and graphite-coated pistons driving the rear axle via a seven-speed dual-clutch paddleshifter (no three-pedal option was available this time round).
The latest E-Diff and F1-Trac stability traction control armed the chassis with cutting edge technology, all cloaked in the Pininfarina-penned body capable of producing 360kg of downforce, while the dynamic winglets integrated into the front air intakes dropped by 20mm at speed to reduce turbulence. The cockpit had few frills and was driver focused: housed under the binnacle were a pair of info-heavy TFT screens either side of the analogue tacho, the dash was lavishly trimmed in leather but freed from clutter with many controls relocated to the steering wheel.
Aside from the switchgear shake-up the 458 was met with unwavering praise. It was astoundingly quick and dynamically infallible, all the while retaining an underlying sense of quality and refinement no matter the speed – a wholly resolved package. The razor-sharp responses and wailing soundtrack combined for an awesome final curtain call of the naturally aspirated high-revving Maranello-born V8.
In 2011 a spider version with a retractable aluminum hardtop was launched, and three years later came the 458 Speciale, a 597bhp hardcore eCoty winner that defined the supercar breed and the brand itself.
North of £130k the 458 isn't exactly a bargain – you'll struggle to find them cheaper –  but then these were £200k-plus out the factory. Despite the £170k list price, you'd be hard pushed to find one short of an options list thick with expensive additions, including carbon fibre trim, upgraded seats and a myriad of superficial trinketry that could take your extras total to nigh-on £50k. The reason for the buoyant values is quite obvious: unequivocal brilliance.
Engine
The flat-plane V8 shows an impressive reliability record and is wholly issue free. Hefty service bills are kept at bay due to the absence of cambelts, too. Locating the source of electronic niggles can be somewhat of a goosechase, so make sure you attend a diagnostics-equipped workshop to identify any electronic foibles. This explains why the majority of 458s remain in dealer circles and – while values remain steady – are likely to continue to do so for the foreseeable future.
> Click here to read our Ferrari 812 Superfast review
In 2011, Ferrari introduced the seven-year service programme, it wasn't void by change of ownership, so look for nothing less than a full Ferrari service history. 458s built prior to 2011 won't be covered under warranty, even the extended warranty plan ran-out after five years. However, as long as the odometer reads below 56,000 and the history and condition passes all the Ferrari checks, you can purchase a Ferrari Power Train warranty which covers the engine and gearbox. It comes in at around £2500 a year and accomdates cars up to their 10th birthday.
Transmission
The twin-clutch unit is Getrag-built, it's a revised version of the item found in the Ferrari California but with shorter gearing and recalibrated shifts. Like the powerplant, it's proving sturdy and largely problem-free. A few owners have flagged-up clutch glitches, a simple fix, resetting the clutch-positioning sensors and updating the software. You can check how much is left in the clutch, it's certainly worth the trouble seeing as a new clutch kit will leave you £20k poorer.
Suspension, Steering, Brakes
The standard adaptive dampers are around £1500 apiece and are only purchasable in pairs, so check for any leaks – this is not usually covered under the warranty. The area most likely to deal a big dent to your finances is the brakes. A set of front pads alone is about £700, and if the discs are gone it's £10k for a new set. So check they've been tested for wear and condition. The 458 is also quick to chew through its tyres so a fresh set is a bonus (rears are £250 apiece). Cast an eye over the wheels and look for damage (inside and out), a new one is £2500. 
> Click here to read our Ferrari GTC4Lusso review
Body, interior, electronics
The oldest 458 isn't yet into double figures so rust isn't a problem, so you're looking for evidence of accident damage, such as variable panel gaps, over-spray and blend-in lines. Get under the lip spoiler and check for scrapes, as well as any scuffs and paint chips around the nose.
Test all the gadgets to see they function to purpose – TFT screens have been known to cause problems on occasion. When new, a number of 458s caught fire – the perpetrating rear-arch liners should have been replaced.
What to pay
Values remain steady: 2010/11 cars with a full Ferrari history and a good spec start at c£150k, though you might find one privately for £140k. A few are around £130k but there's usually a reason – LHD, high miles, less saleable colour combo, etc. Most 458s cover minimal mileage, and cars with multiple owners aren't uncommon. Common options include carbon-shelled seats, carbon trim, front suspension lift and Scuderia badges. Spiders start at c£170k. Speciale values have plateaued but that's not saying much, with prices starting around £250k.
What we said
'It's clear within the first few miles that Ferrari's decision to use a double-clutch gearbox was the correct one. Less than 50 milliseconds after you flick either paddle, the gear engages. The real advantage is at low speed – you can dawdle in the 458 with no clunking actuators and no rancid clutch smell.
'Heading up into the hills, the roads are wet and the surface cratered with poor repairs – not a place you'd normally want to be in a 562bhp Ferrari – but the 458 is about as tame as this type of vehicle can be under such circumstances. Its electronic chassis armoury is now impregnable – F1-Trac melds with E-Diff3 to create an acronym orgy of unparalleled dynamic brilliance.
'The 458 also sets new standards of straight-line performance in this class. It pulls convincingly from 2000rpm and builds so strongly in the mid-range that by the time you're waiting for the final, frenzied attack on the rev-limiter you're left a little disappointed that you don't sustain some manner of neck injury. The 458 continues what must be the finest patch of road-car form Ferrari has ever enjoyed.' – evo 139
> Click here to read our Ferrari California T review
I bought one
'As regular evo readers will know, my car was bought primarily to run on 6th Gear's supercar driving experience events, although in the early days I also used it for my regular commute between the office in Tamworth and home just north of Sheffield.
'We got off to a shaky start when a faulty fuel sender left the car stranded on the hard shoulder of the M1. I also found the on-board computer unnecessarily complicated, and didn't get on with the wheel-mounted indicator buttons. But as the months went by I couldn't help marvelling at the car's range of talents. Here was a Ferrari that in auto mode my mum could literally drive to the shops, and the very next day it could be hammering around Castle Combe.
'There have been a few electronic glitches and recurring warning lights, mostly relating to the traction control. But the only major issue was when it developed a serious-sounding rattle from the top of the engine at around 60,000 miles. When Graypaul Ferrari investigated, they found significant camshaft damage. Fortunately, Ferrari UK agreed to authorise a repair under warranty.
'In nearly six years, it's covered around 80,000 miles – more than half of those on track and with literally thousands of different drivers. Remarkably, it's lost none of its pace and, what's more, the classic magnolia interior is virtually unmarked and the interior rattle-free. Its maintenance records over the last couple of years show it's nipping at 6th Gear's Audi R8 V10s in terms of reliability. It's certainly head and shoulders above the F430 we used to run, which quickly exhibited signs of fatigue after sustained track use.
'The 458 has confirmed my belief that modern Italian supercars benefit from mileage – there's no need to fear putting big miles on a 458, except of course for the accelerated depreciation. It's just a shame more owners don't really drive and enjoy them.' – Simon George, January 2017
> New Ferrari Portofino revealed 
Rivals
McLaren 12C
Closest rival to the 458 in terms of performance and ability, the 592bhp 12C is even quicker and more capable, but not quite as involving. Good value from around £120,000.
Lamborghini Gallardo
The 552bhp LP560-4 ('08-'13) and lighter, lairier, 562bhp LP570-4 Superleggera ('10-'13) match the 458 for drama and presence, if not outright ability. From £120,000.