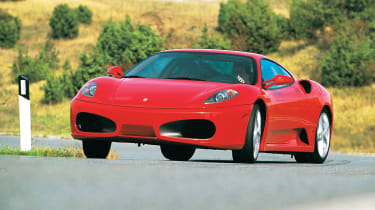 Find used Ferrari F430's for sale on the Classic and Performance Car site here.
Here's a milestone car. The F430 was the first no-buts Ferrari, the first Maranello product for which no excuses needed to be made. It was regarded by most critics as, if not perfect, as close to theoretical Ferrari road-car perfection as a Ferrari had ever been.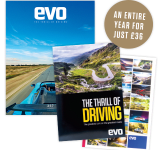 Subscribe to evo magazine
evo is 21 and to celebrate, we're returning to 1998 prices! Subscribe now to SAVE 39% on the shop price and get evo for its original cover price of £3.00 an issue, plus get a FREE gift worth £25!
It seems odd now to be writing this in the past tense, because the F430 is a car that seems to have dated hardly at all. Yet the truth is it was launched almost seven years ago and has now been replaced by the yet more wonderful 458 Italia. Quit while you're ahead; it's always a good philosophy.
A new 458 will cost you £173,000. A new F430 cost around £117,000 at launch, depending on options. Today you can get into an F430 for little more than half that launch price, and it could well be a car that has covered very few miles because F430s generally aren't used intensively. They can be, though, without ill effect – and that's one of the things that sets them apart from earlier Ferraris, including the 360 Modena from which the 430 is derived, and which makes them such a compelling pre-owned purchase.
Nor need running one be prohibitively expensive, especially if you have it looked after by one of the numerous independent Ferrari specialists. Some parts do have a short life, notably suspension components and the F1-shift cars' clutches, but mostly the F430 is bombproof. Nor do you have to pay Ferrari main-dealer parts prices; suppliers such as Eurospares sell genuine Ferrari parts, or equivalents branded by the component company that actually makes them, at sometimes significantly lower cost. It's worth knowing, for example, that the hydraulic pump for the F1 gearbox is the same as that for an Alfa Selespeed 'box.
So why is the F430 so wonderful? Its aluminium structure is more rigid than the 360's, and its engine was all-new, with a block casting shared with the contemporary Maserati V8s and its own unique cylinder heads – four valves per cylinder instead of the 360's five, and chain camshaft drive instead of belts to the great reduction of service costs. Power, at 483bhp, exceeded even that of the mighty (and turbocharged) F40, while the torque spread was extraordinary for an engine keen to howl beyond 8500rpm.
Then there are the looks, crisper-edged than the 360's with a strong hint of Enzo around the surface-erupting tail-lights. There's the manettino, the steering wheel-mounted selector for stability systems, damping, shift speed and throttle response. And there's the E-diff, whose calibrations this alters, a clever, clutch-controlled active differential that sorts out waywardness not by inhibiting one rear wheel but by pouring more torque into the other. Ferrari reckons it's worth 3sec a lap at the Fiorano test track, and it certainly helps make the F430 a far more forgiving machine than the 360, and a car of supremely subtle and keen responses.
Fine. So which F430? You can have coupe, Spider or F1-shift-only Scuderia, this last one a hardcore, stripped-down machine that is not only even faster with 503bhp but can also ride better when you're cracking along a lumpy road. How so? Because, unlike in the regular car, you can control the damping separately and mix suppleness with speedy shifting and liberated stability systems. 'We did it because Schumacher recommended it,' said Ferrari at the time. We journalists had been asking for it since 2004…
During a five-year production life (it wound down in 2009, with the 16M Spider version of the Scuderia as the grand finale), around ten per cent of F430s were manuals. This figure is probably higher in the UK although Ferrari's British importer, curiously, won't reveal the numbers. A manual car might offer a purer experience and the clutch will last much longer. But the F1-shift was working pretty well by the time the F430 arrived, and in the 430 Scuderia it can feel magical. Your choice; either way, you can't really go wrong.
Find used Ferrari F430's for sale on the Classic and Performance Car site here.
'I bought one'
Nick Jones - Ferrari enthusiast Nick has had 348s and a 360, and had long wanted an F430.
'I finally bought one nine months ago when the price became right. It's a 2005 manual car. I prefer driving a manual because I like the feel, the control.
'I've done about 3500 miles in it now and it's been pretty much trouble-free. The build quality is much better than the 360's – you don't get that feeling of fragility when you pull the doors shut. It's better engineered in every aspect. The only problem was with the instrument lights, which stopped working, but DK Engineering fixed it straight away with no bill. They have been excellent – I wouldn't go anywhere else.
'One of the best bits is the sound. A 360 has a high-end scream but this has a low-end growl, too. The steering and throttle response are brilliant and the traction control isn't that intrusive in Sport. And Race mode is stunning on the road – you can feel yourself right on the edge but it always looks after you.
'Crucially, I don't get the worries I had in earlier Ferraris. It's a more useable car.'