Honda NSX vs TVR Tuscan, BMW M5, Porsche 911 and Maserati 4200 GT
You could have Honda's NSX supercar, TVR's brutal Tuscan, Maserati's sublime 4200 GT, BMW's epic V10-engined M5, or a 996-gen Porsche 911 for just £15,000. David Vivian samples them all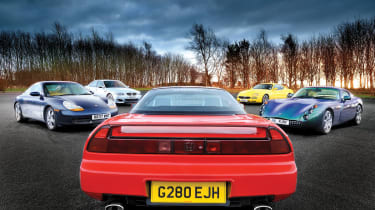 So, the Suzuki wins. I drove it over to evo reader Mark Walton's place to pick up his 996. It's a great little car: zesty, engaging, practical,  and a painless, hassle-free ownership proposition. If a baby hot hatch for £15K is what you want, we don't think you can do any better than the Swift.
But let's just suppose that you're not currently in the market for a baby hot hatch but you've got a hatch-sized budget. Well, the good news is that £15K also opens up the possibility of a number of fabulous cars that have brought benchmark levels of beauty, brutality and tyre-smoke to these pages over the years.
Of course, you'll need to take a deep breath, convince yourself that the safety net of new car ownership is for wimps, and budget accordingly for the maintenance and running cost challenges that attach themselves to charismatic old-timers like barnacles to the hull of a ship. Moreover, you'll need to do this while maintaining a steadfast belief that depreciation is your ally and not a temptress that will merely stump up for a pair of rose-tinted specs. But just look at the cars we've assembled here to tempt you, starting with…
A Honda NSX. It's something of a wow moment just to see an NSX on the road these days. As Honda shapes go, it's stood the test of time better than most. Yes, it looks a bit dated, but the short snout, forward cab, ultra-low scuttle and long tail with wrap-over wing still hit the right notes. True, the NSX never sold in great numbers in the UK – certainly not in the sort of volumes that would have persuaded Honda to bring over the lightened and track-honed '-R' variant – but owners of good manual 'box examples have cottoned on to their cult classic status and rising stock (£20K plus) and tend to keep their pampered treasures locked away, which is understandable if perverse given the Honda's everyday useability.
Partnership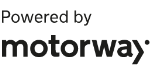 Need to sell your car?
Find your best offer from over 5,000+ dealers. It's that easy.
Early, leggy autos with pop-up rather than fixed headlights, on the other hand, fall comfortably within our nominal £15K budget and, in particular, have built a good rep for being reliable and durable.
In fact, editor Trott is thinking hard about one as a replacement for his Clio V6. If he takes the plunge he'll certainly have fewer heart-in-mouth moments keeping it on the island than in the dynamically tetchy mid-engined Renault. The NSX may never have cut it as the 'Japanese Ferrari' glibly coined by oxymoron-loving sections of the Press, but then something that was so much easier to drive and live with never could. It attempted to blend elements of advanced technology with a polished mechanical purity as an alternative to the rough-cut passion you could almost taste in a Ferrari. Maybe it wasn't enough. What it did do was force Ferrari to raise its game in areas it previously hadn't even thought about. And what is the roundly lauded Audi R8 if not the spiritual successor to Japan's original user-friendly supercar?
This mint early NSX auto has been mothballed by Honda, not least because it is believed that Ayrton Senna's backside, undoubtedly the most advanced instrument used during the NSX's development, was a visitor to the remarkably unworn driver's seat. In fact this car is almost too perfect. Even the auto 'box feels uncommonly slick and crisp, making a stronger case for the self-shifter than it probably deserves. There's a reason manual NSXs command a hefty premium: they nudge the involvement factor just enough in the right direction to make it come truly alive. That said, the auto doesn't undermine the Honda's still impressive medley of abilities – the combination of nimbleness and stability, the pliant ride, the meaty steering brimming with feel. Fast? In a straight line, and slugged somewhat by the auto, hardly heart-stopping by today's standards. But fast enough. It may have just 252bhp, but the 3.0-litre VTEC V6's gloriously hollow, resonant bark still sends a tingle down the back of your neck, while the power delivery seems virtually open-ended. And all the time the chassis' sublime composure measuring it out on the tarmac.
McLaren F1 designer Gordon Murray owned one and used it not just to commute from his home to Albert Drive – a chore he said it performed as well as any family hatch – but also to benchmark several aspects of the F1, not least its usability. So easy is the NSX to drive, so undemanding to live with and so well made, you might just forget what it is you're driving. A bit of a double-edged sword, then. But that was always Honda's aim. To make the no-sweat supercar.
I made a pact with myself before I sat down to write this that I wouldn't use the term 'no-brainer' in anger. Occasionally, it's just too easy to convince yourself that you're looking at the bargain of the century and start calculating what elderly relatives might be worth on the open market. Or who hasn't been tempted by the thought of a gleaming old-generation S-class or 7-series on the drive for an initial outlay you might otherwise spend re-tiling the downstairs loo? The irony, of course, is that's where you'd spend most of your time: flushing money down the toilet. As I hinted at earlier, asking price isn't the same thing as affordability.
And so we come to the V10-engined, 500 horsepower E60 BMW M5. No- brainer on the outside – still, arguably, the world's greatest supersaloon – a vortex of complexity, mountainous fuel bills and potential pain on the inside. So a few words of advice: think very, very carefully.
IT project manager Gary Tall did. He ummed and he arred, scratched his head and walked round in circles for a few minutes. And then he bought one. And, in his position – with the financial wherewithal to have a  996.2 GT3, Mitsubishi Evo VI (500bhp) and Lotus Excel SE already in the garage – I'd have done exactly the same.
You'll find plenty of E60 M5s floating around the classifieds for circa £20K, and the odd one with galactic mileage for as little as £15K. But you'll be lucky to find one quite as mint (read virtually indistinguishable from new) as Gary's. Registered in 2005, just 33,000 miles on the clock and sold with a long warranty at a smidge under £20K, it was, in the final analysis, a no-brainer. And just about the perfect fit for Gary at this time in his car-owning career. 'After years of ever more extreme cars, I wanted a comfortable family car that could transform into something which is fun and exciting to drive,' he explains. 'I like the thought of having your cake and eating it. The engine noise is superb, too.'
Hardly surprising when you consider what's under the lid. The M5's all-alloy, naturally aspirated, 90 degree V10 has bi-Vanos variable camshaft control and, in addition to that astonishing 500bhp at 8250rpm, 383lb ft of torque at 6100rpm. The roads around Grafham Water aren't really the place to let the M5 off the leash, but the road test stats are telling. Above 100mph, dispatched in 10.4sec, not even the Tuscan would be able to live with it. The 0-150mph time of 21sec places it in the company of big-hitting supercars.
The chassis is easier to assess. Shorn of lesser E60 5-series' run-flat tyres and active steering, the M5 is a deeply satisfying steer on the twisty stuff, not least for its consistently fine ride, whatever damper setting you manage to access via the still largely unfathomable iDrive system. True, the SMG paddle-shift transmission can be either slow and slurry or fast and thumpy (it's a pity BMW didn't put more effort into developing a better manual gearbox than the one they made available for the US market) but, for £20K, I'm inclined to conclude 
that it isn't just that the M5 holds all the cards. Rather, it has another couple of packs on standby.
Next up is Simon Loat's Maserati Coupé (or 4200 GT as it's more generally known). Simon runs a 150-year-old Manchester-based family business selling musical instruments, including grand pianos that cost up to four times as much as the £16,000 he paid for his startlingly yellow 2003 Maser (replete with new clutch, brake pads and tyres). During one coffee break we discuss the beautiful 'old school' timbre of the beloved Bösendorfer grand that jazz legend Oscar Peterson kept in his basement music room. Oscar used to invite other, inevitably less gifted, pianists down to play it just so he could place his ear close to the instrument and soak up its magical tone.
I hope I'm not making a specious connection here, but it seems more than coincidental that Simon should own a V8 Maserati and an extremely musical one at that. When I slip behind the wheel for a blast down the road, he asks if he can come along (Simon's seven-year-old son Henry comes too) – not, I suspect, in the hope of learning anything useful from my driving technique but to listen to the 4.2-litre Ferrari-developed 90-degree V8 when I give it the beans. Which I'm encouraged to do at every opportunity, especially by Henry from the back seat. Is this what Catchpole was like as a child, I wonder.
Naturally it sounds magnificent and exactly like a tautly-strung, high-revving Italian V8 with a right-angled (rather than Ferrari's preferred flat-plane) crankshaft should. An angry howl with a mellifluous edge. Which might seem like as good a reason as any to take a bet on a Maser with a (let's say) patchy portfolio. But what really takes me aback is the shove. The instant throttle response is part of it, but bury the pedal and the acceleration is simply brutal, an adjective that serves equally well for the shift quality of the Cambiocorsa transmission with every paddle-flick. Rather like the M5's SMG, it's a stark reminder of what life was like before silky-slick double-clutchers.
I mentioned a 'patchy' portfolio. This has nothing to with the way the car looks – especially great in yellow (much better than some of the blander metallics, Simon remarks). The interior's pretty special, too: an extravagantly sculpted cocoon of dark blue leather with yellow stitching that wears its nine years lightly. Accommodation? A proper 2+2 with plenty of room for Henry to kick back and shout instructions to the helm while simultaneously taking digital snaps of the blurred scenery.
Running costs then? No, the prices a good indie specialist will charge to keep it sweet are far from ruinous – even if you need to replace the Cambiocorsa transmission's clutch from time to time, and you will. If it weren't for its 15mpg thirst, you might even say running costs were reasonable. It's been touch-wood reliable, too.
The fly in the ointment is the suspension. Well, not so much the suspension as the early form of Skyhook adaptive damping which, unhelpfully, is either board-hard or marshmallow-soft and doesn't give the chassis – shown to much better effect in the GranSport evolution of the 4200 GT – a chance to deliver its best game. After the quickly dispatched straights come the evilly cambered turns and the Maser doesn't care for them much at all, suddenly getting edgier than Ed Miliband on the other end of a John Humphrys roasting. Even Henry falls silent. But it just makes the return of the Maser's full-bore V8 on the next straight all the more special. 
I got to spend a little more time with Mark Walton's Porsche 996 Carrera 2. As Mark couldn't join us for the day, I collected it from his house on the outskirts of Northampton before joining up with Simon and Henry in the Maserati  for the final 20-mile run to our photo location. The 996, as regular readers won't need reminding, is something of an evo hero to put it mildly, winning the magazine's inaugural 1998 eCoty in Carrera 2 guise, and bagging two subsequent eCoty gongs as the GT3 and Turbo. A lot to live up to, then.
Maybe not the happiest shape in the 911's long evolution – the 'fried egg' headlights always looked like an aesthetic aberration – the on-road presence of Mark's car is further suppressed by its rather murky navy blue paintwork, while the caramel-coloured interior is a tad incongruous. Getting on for 14 years old and with 87,000 miles on the clock, it nevertheless seems like a remarkably honest, unmolested example, carrying a predictable ragbag of minor niggles that would be easy to put right: a dodgy sunroof seal that generates a gale of wind- noise at speed (alleviated by raising the tilt action of the sunroof an inch or so); an adjustable steering wheel that seems to be stuck in a rather low-slung position (not a problem for me or, presumably, for Mark as it's his daily driver); and, perhaps unsurprisingly, a slightly tappety tickover. But give it a bootful of revs and that uniquely gruff-yet-smooth watercooled flat-six soundtrack is as sweet as any 911's.
Undoubtedly, the years have left their shiny mark – not least on the leather, which has acquired more craggy lines than a map of the Nile Delta – but the essence of the car, of the 996, remains as pure and uncorrupted as if it had been preserved in amber.  Even with the less than ideal driving position imposed by the stuck steering wheel, you get in, clunk the still vault-solid door shut and drive away feeling immediately in-sync. Control weightings are even and harmonious; there's an over-arching coherence, a mechanical tautness that's immediately reassuring.
The car's compactness is one of the facets that Mark, whose previous car was a mk3 MR2, really appreciates. It's such a simple thing: the car that takes up the least amount of road is the one that can use it most effectively. It has more space, more options, more chances to exploit traffic dynamics. Its own aren't too shabby either. If you want to know what truly great steering feels like, the 996 C2 is the car: fast, accurate, perfectly weighted and dripping with feel. And relieved of the contribution of ultra-low- profile tyres (pretty fresh-looking Conti Sport Contacts all the same) the ride is remarkably pliant and forgiving.
When Porsche replaced the 996 with the 997, there was a feeling that a few layers of  intimacy, involvement and, perhaps most crucially, attitude adjustability had been peeled away and a few degrees of understeer had been dialled in. With the 996, you can palm that decisive yet fluid gearchange down a cog or two and power out of a corner in a mild, oversteering slide that demands no more than a roll of the wrists to hold.
Truth is, there's still nothing quite like it. The sense of connection flows almost immediately, and there's a depth of character that's evolved over decades: the timbre and feel of the engine, the easy precision of the gearchange, the tactile rewards associated with build and finish and, even in this old-timer with a comparatively modest 300bhp, a deliciously broad powerband capable of delivering a generous tug from just 2000rpm that simply doesn't let up.
And so to the TVR. At its launch in 1999, The Tuscan Speed Six was the cock-sure poster-boy for Blackpool's bastion of automotive biff, a car gloriously belligerent and defiant in the face of contemporary pressures, uninterested in the need to adapt to survive with a spot of anti-lock braking here or a dab of traction control there. It had neither. The disconnect with modern, high-octane, Porsche-pampered consumer sensibilities was gaping and provocative and rather wonderful.
So I'm not quite sure why I feel compelled to confess to Tuscan owner Paul Vincent that I've got a bit of history with his automotive object of desire, including two of the scariest moments I've ever had in a car. One involved disturbing a flock of sheep grazing peacefully in a field enclosed by a dry stone wall in Wales. Probably the last thing they expected was a metallic orange TVR joining them for breakfast, or the blizzard of shattered glassfibre bodywork that blew in soon after. The other happened at 170mph (and counting) in a black Tuscan S on an Autobahn when the front splitter fell off and made a noise so loud I momentarily believed a sniper had taken out a front tyre with a high velocity bullet.
There's a chuckle as the keys arc towards me, followed  by the reassurance from their owner that splitters falling off aren't unheard of. I don't mind feeling apprehensive at this point. I have a theory that if you don't feel nervous as you slide down into a cockpit that, at first glance, seems to have been constructed from parts stolen from a store cupboard in Area 51, you're either an owner and therefore live in the 'Tuscan Zone' or you have absolutely no imagination at all.
Paul, a design engineer, has real estate in the Tuscan zone (he also owns a thoroughly sorted Tuscan S, and a Cerbera for good measure). He bought his green/purple flip- painted 12-year-old mk 1 4.0-litre example for £13,000, which was something of a snip given that its Speed Six engine had been fully rebuilt at 49,000 miles. His initial idea was to re-fettle it and move it on, but although he's shelled out for a new set of ignition leads, a lambda sensor and door and boot rubbers, the relationship is lingering  – let's call it a work in progress.
If the Tuscan is the only car truly to nail the idea of beauty and the beast being one and the same, Paul's takes things a stage further with straight-through exhausts that were on the car when he bought it and make it sound not unlike a Spitfire (the plane not the car). That he hasn't changed them must mean decibels are clearly his drug of choice – loud, rude and, if you're anywhere close, visceral. It's the sort of aural onslaught Motorhead's Lemmy might even be able to hear mid-gig. One thing is clear. If 'grunt is good', you won't find a car for £15K closer to the top of the food-chain than the Tuscan.
 As well as sounding like a WW2 fighter, it feels every bit as stupidly fast as it should  with 360bhp and a kerb weight of just 1100 kilos. This isn't power you apply blithely, not even in a Tuscan with a perfectly sorted chassis. This one, Paul readily concedes, isn't quite there yet, as I discover on the awkwardly cambered section of road that had the Maser in two minds. Here the Tuscan seems to enter a state of quantum uncertainty and wants to be in at least two places at the same time. You're not sure whether to loosen your grip on the wheel and let it get on with it or try to force it to your will. Either way, you feel uncommonly wired. 
Fact is, 12 years on, the Tuscan retains the potential to splatter 911 drivers' egos all over the front number-plate. It's savagely, scarily rapid and it still looks the business, too. At heart, it encapsulates everything that was great about TVR. At £13K, adrenalin-rush-per-pound is off the scale.
For me, though, it's the 996 that's got under my skin. The only car I could truthfully entertain as a realistic prospect. As I drop it back at Mark's house and climb into the Suzuki late on Saturday evening, I wonder for a moment if I should have made up an excuse to keep it for the whole weekend. It wouldn't be enough. It's got me thinking.
Huge thanks to Simon Loat, Gary Tall, Paul Vincent and Mark Walton for the use of their cars.