Aston has its continuation models, Porsche has Singer (kind of) and now Ferrari has Icona, its new concept for limited-edition series cars that trade on the company's rich heritage. The first fruits of this project are the Monza SP1 and SP2.
Built on a new aluminium chassis derived from the 812 Superfast, the pair of Monza models are then clothed in a Kevlar and carbonfibre body that utilises the same production techniques employed by the company's Formula 1 team. Clients and customers are then invited to select their desired configuration – either the conventional two-seater or the more driver-focused single-seater derivative.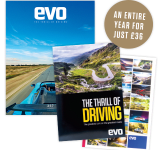 Subscribe to evo magazine
evo is 21 and to celebrate, we're returning to 1998 prices! Subscribe now to SAVE 39% on the shop price and get evo for its original cover price of £3.00 an issue, plus get a FREE gift worth £25!
Goodwood hillclimb ride
Less than a year after it was unveiled to the world, we have the chance to ride shotgun in the two-seat Ferrari Monza SP2 variant up Goodwood's famous hill climb course. Though the two might look very similar to the 812 Superfast on paper (plus 10bhp and minus 50kg), it's what can't be expressed in a stats box that really sets them apart.
Differences are apparent from the moment you lay eyes upon the car; a long, V12-cocooning bonnet only accentuated by the complete lack of a roof or windscreen, and dual roll hoop-housing buttresses sitting behind both driver and passenger, inspired by the 750 and 860 Monzas of the 1950s.
The name 'Special Project' is no exaggeration, as with a pull of the leather loop just inside, and a simultaneous, gentle upward motion, up come the exceedingly lightweight carbonfibre doors. In this particular car (the very first production SP2), stunning red leather seats complete with four-point harnesses are home for the run. Though the seats are surprisingly comfortable, plush carpets and leather-covered panels clearly weren't on Maranello's agenda, with LaFerrariesque, carbon bareness in their place.
Climbing in and out isn't an awfully elegant affair, but despite its drastic design, the SP2 is a surprisingly practical machine. Lift the rear lid and you'll find a boot big enough for three helmets and a fully laden backpack – you even get USB charging ports on both the driver and passenger sides of the cabin. A predictably useful grab handle (which can double as a water bottle holder) is mounted on the central tunnel too, and there's also a map holder for when reminiscing about the Mille Miglia doesn't quite cut it.
Out of the Supercar Paddock and through the crowds of camera-wielding onlookers we go then, without a roof, or a windscreen, in a £1.5m Special Project Ferrari. It's safe to say this car's not for introverts…
Ferrari lids donned, and a few tyre-warming throttle squirts later, we're primed on the start line. Of course, tyre smoke is mandatory at the start of any Goodwood hill climb, but despite the initial, deliberate loss of traction, speed picks up frighteningly quickly before the first corner, the SP2 seemingly accelerating exponentially with every pull of the right paddle. 
> Ferrari 812 Superfast review – big but brilliant, with an astonishing engine and gearbox
Precisely zero front tyre heat can be gathered before each run at the Festival of Speed, but thanks to the 812-derived all-wheel steer, the SP2 almost seems to pivot around the passenger compartment at the first corner, before all 798bhp throws us past Goodwood House at just under 130mph.
Though Ferrari's trick intercom-equipped helmets sap a frustrating amount of sound from the experience, flying past the flint wall puts a silly grin on my face, thanks to the glorious sound from that 6.5-litre NA V12. With just a slither of perspex separating passengers from the bonnet, you also get a wonderful dose of intake sound, complementing the V12 tones from the rear. 
Some might say your £1.5m is better spent on an 812 Superfast, and for many people, especially in rainy England, they'd probably be right. What they'll miss out on though, is an experience that puts you as close to one of the best powerplants ever made as anyone can get, and one that you simply won't find anywhere else.
> Click here for our look at all of Ferrari's One-off models
The details
Both the SP1 and SP2 are powered by the 812's 6.5-litre naturally aspirated V12 engine, but with the help of variable inlet ducts and a recalibration of the ECU. Power is up to 798bhp (a 10bhp increase), so this is now the most powerful V12 engine Ferrari has produced. Peak torque is 530lb ft, 1lb ft more the a 812 Superfast; the seven-speed dual-clutch gearbox and virtual four-wheel steering are both retained.
At 1500kg (dry) for the Monza SP1 (1520kg for the SP2) the first Icona car is 160kg lighter than a Superfast coupe on which it is based. It's also 25mm wider. The carbon body is 15 per cent lighter than that of the coupe and uses 20 square metres of the lightweight material. There's also a new unique design of lighter 21-inch forged wheels.
In terms of performance, Ferrari claims 0-62mph in 2.9sec, and 0-120mph in 7.9sec, with a top speed in excess of 180mph.
The Monza's design was driven by a 'single stroke of the pencil' theory, drawing inspiration from its historic predecessors, but specifically referencing these old models and turning it into a sort of retro pastiche.   
Being bespoke, the body of the Monza required a unique LED headlight design to fit within the new front-hinged single-piece clamshell bonnet. There's also a new full-width rear light bar. The absence of a roof also required the design and development of a 'virtual windshield' positioned ahead of the cockpit designed to deflect airflow over the driver.
Access to the Monza's carbon-clad interior is via a pair of small dihedral doors, and whether you opt for the single or two-seater layout a carbon brace bisects the cockpit. The intention was to design an interior that provides the closest to that of an F1 driving experience as possible, whilst still being usable on the road.