We're at Anglesey circuit to give the Ferrari 458 Speciale its first proper performance test. Although the Speciale we are using is a standard road car, a look around our test car shows it's the lightest possible spec, with no options like satnav or a stereo or leather. Indeed, the only options fitted are those that pare weight from the already lean Speciale, such as a few carbon bits and titanium wheel nuts. Then there's the optional North American Racing Team (NART) stripes, known to be at least four-tenths quicker than a regular paintjob...
Perhaps against expectations, the Ferrari 458 Speciale is an inherently approachable car, but like any modern Ferrari it takes a little while to get yourself acclimatised to its responses and delivery, and to get a feel for its balance. The much-lauded Slide Slip Control system is a big help in this early phase, simply because it allows you to probe the limits of adhesion with a little reassurance that you won't fire the car off on your first lap. The system is very clever, analysing your inputs and cross-referencing them against the car's speed and trajectory to decide whether you're in over your head or deliberately provoking the car and taking the appropriate measures to control and extend the slide. The cleaner and more precise you are with throttle and steering inputs, and the greater accuracy with which you can match the two, the freer the system feels. There are limits to the excesses it'll allow you to indulge, but as a means of getting yourself dialled in, or a tool for less experienced hands to learn car control and to get a feel for where the sweet spot lies, it's very impressive.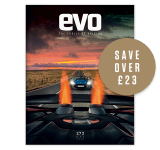 Subscribe to evo magazine
Subscribe today to have every issue of evo delivered straight to you. You'll SAVE 39% on the shop price, and get evo for its original cover price for a whole year!
For our timed laps we're running with everything switched off to give us a fully transparent picture of the Speciale's limits. The difference between this analogue mode and those with some electronic assistance is marked. Only now do you appreciate how subtle and refined the electronics are and how much they are juggling to maintain a neutral handling stance. You're also struck by just how driveable the Speciale is when you really go for it. It totally sucks you in, drawing you ever deeper into its reserves of turn-in response, mid-corner grip and apex-to-exit traction. Likewise the brakes, which borrow technology from the LaFerrari to deliver increased stopping power with smaller calipers and pads than the regular 458, and stop you like a brick wall.
The steering feels calmer and less pointy than in the standard car, though you still need to be mindful not to use overly aggressive steering inputs, for the front end will respond rapidly enough to agitate the tail on turn-in. Conversely, if you try to carry too much speed in and through the corner you'll feel the front end push a little. It's a fine balancing act, but the car gives you the feedback to at least identify your mistakes.
Ultimately you're in search of two things in the Speciale: a neutral balance through the fast stuff and traction out of the tighter corners. The quick Turn 1 left and Church right-hander need commitment and precision; the former to preserve minimum speed, the latter to scribe a clean trajectory that loads front and rear ends equally. Through the tighter stuff you can light the rear Michelin Pilot Sport 2s up, but finding that point where they're just over-rotating requires real discipline and finesse.
Watch the video above to get a more detailed analysis, and also experience the sound of that epic Ferrari V8.