Kimi Raikkonen makes noise in a Ferrari F12
An unusually chatty Kimi Raikkonen drives a Ferrari F12 very sideways and mostly one handed around Fiorano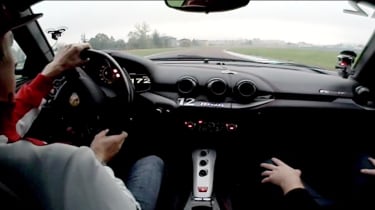 We're not generally envious of evo's sister magazine Auto Express (also owned by Dennis Publishing) as generally we imagine that they spend their days testing the legroom in people carriers. However, Chris Ebbs obviously took a break from all that when he spent a day at Ferrari's test track, Fiorano.
The highlight of the day was clearly a passenger ride with Kimi Raikkonen in a Ferrari F12 Berlinetta and it's all on video. The famously mute Finn is surprisingly chatty throughout the lap and clearly enjoying himself. He keeps the F12 fully lit from the moment they leave the garage, frequently correcting slides with his left hand only so that he can change up a gear mid-slide with his right hand.
The section around 2min10sec in particular shows that Kimi's lost none of his oversteer skills since stepping away from the WRC and returning to F1. At the end of the two laps he simply ditches that particular F12 in the garage, and heads for another one that's already parked up with fresh tyres. We're big fans of Kimi at evo and this video demonstrates exactly why.