Click here to view Ferrari F40s for sale
For many supercar fans, the F40 remains the most exhilarating road car ever made. For the Ferrari cognoscenti it's right up there with the 250 GTO in terms of visceral thrills and the sheer 'want one' factor. Why is this? No-one knows their classic Ferraris better than the experts at Bob Houghton Ltd, and service manager Russell Smith is in no doubt what makes it stand out. 'They will never be allowed to make another F40 in today's world of red tape and health and safety,' he says. 'That is what makes it so special and so desirable.'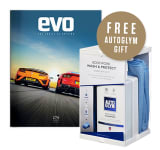 Subscribe to evo magazine
Subscribe today to our exclusive new offer and SAVE 39% on the shop price, get evo for its original cover price of £3.00 an issue, plus get a FREE gift worth £20!
It's not particularly rare, of course. When it was unveiled in 1987, production was to be limited to around 400, but such was the demand that the final figure had reached 1315 when the run ended in 1992. (All were left-hand drive and painted in Rosso Corsa when they left the factory.) Smith reckons 78 cars were delivered to the UK, although in recent years many have come in from Europe – they're easily registered in the UK with a few mods to the speedo and the headlight trajectory.
The lengthy production run does have a limiting effect on values compared with the substantially rarer 288 GTO, F50 and Enzo. However, while only a few years ago you could pick up an F40 for between £140,000 and £180,000, with maybe the odd, perfect, 1000-mile car fetching £200K, today you can more than double those figures.
Prices today range from £300,000 to £500,000, the large variation being due to several factors. Low-mileage cars currently command the highest prices, but Russell Smith reckons that as the cars get older the mileage will have less effect on values and more emphasis will be placed on history and condition. 'You only have to look at cars like the 250SWB, where nowadays the mileage is pretty irrelevant – the value is in the history and how the car has been looked after,' he says.
Originality is everything with the F40, continues Smith. A well looked-after original car is a far better bet than an incorrectly restored example that looks good but isn't as it should be. Crash damage can reduce the value severely, as can a non-original engine. Original books, wallet and tools are a must.
An important development in the F40 market – as with all classic Ferraris – has been the factory-backed Classiche programme. For a fee, Ferrari will 'authenticate' your car and issue a beautiful red book with all the details of the car and a certificate of authenticity. Basically it confirms that the car is of the same spec as when it left the factory, and it has become an important selling point. The number of owners is not normally an issue as long as the car's entire history is documented, though having a famous name or two in the logbook certainly helps.
The road-going F40 changed little in its five-year production run (though the race version that appeared in GT championships in the early '90s was substantially modified). The main differences in spec were that post-1991 cars had catalytic converters and the option of adjustable suspension. This used to be considered more desirable because of the higher ground clearance on offer – handy for speed bumps and getting on and off ferries – but now that components are wearing out and getting harder to replace, the non-adjustable cars are more favoured. Some F40s have Perspex sliding side windows rather than regular wind-up ones. They reduce weight and add a racier feel, but they're less practical and the plastic tends to scratch very easily.
The fundamental engineering of the F40 appears to be of a high standard. According to Smith, the 2.9-litre V8 is a strong unit and it is extremely uncommon to get any internal engine failure. 'They do suffer from the odd electrical gremlin and you really need to know the cars inside-out to fix some of these,' he adds. 'Turbos can also cause problems, but they are normally easily overhauled.'
Although Ferrari recommends a 3000-mile service interval, it is more common for cars to have an annual service due to the low mileages they tend to cover, while the cambelts should be replaced every two years (see Servicing section, right, for costs).
The main expense of maintaining an F40 involves the fuel tanks – or rather the rubber fuel cells (except for US cars, which were fitted with aluminium tanks). To fit a pair of new fuel bladders will set you back around £12,000, and Ferrari advises that they're replaced every ten years.
So there you have it – a glimpse into the world of F40 ownership. Or, if you're very, very fortunate, a taste of what to expect when you become the owner of one of the all-time great supercars.
Click here to view Ferrari F40s for sale
'I bought one'
Peter Read
'I first had an F40 about ten years ago, which I kept for three or four years, but then I thought it was time for something else. Almost as soon as I sold it, I realised it was an error. There's nothing else quite like it. It's just such a raw car. You light it up, the turbos come in and you get this enormous thump in the back and hurtle off down the road with the turbos whistling. 
A couple of years later another came up, at Joe Macari's. This one had 20,000km, so it had been used but it was in good condition, with all the jobs done. I've still got it – it's now on around 32,000km and I love it.
I drove it to Maranello for the Ferrari 60th anniversary and managed to cook the alternator, which meant a 24-hour delay in Germany while someone rebuilt it. But it was entirely my fault – it was very hot and I'd left it sitting too long with the engine running. The car was part of the display at Fiorano, which was a real thrill, but because the alternator has some sort of link to the starter motor, I parked it on top of the hill, just in case I needed to bump-start it! In fact it behaved itself perfectly.
I'm lucky enough to have a collection, including a Miura S, EB110 and Zonda Roadster, but there's still nothing like the F40.'