Henrik Fisker resigns from Fisker Automotive
The founder of Fisker Automotive has quit from the company due to fundamental disagreements with executive management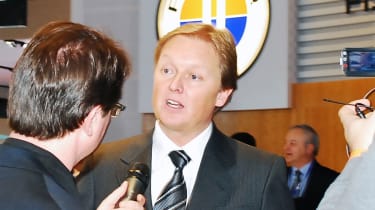 Henrik Fisker, the founder and creative force behind the California-based car maker Fisker, has quit his position of executive chairman at the company, citing 'several major disagreements with Fisker Automotive executive management on the business strategy'.
Henrik Fisker first made his mark in the automotive world designing cars such as the BMW Z8 and Aston Martin DB9., going on to set up the Fisker Automotive with business partner Bernhard Koehler.
The car company has suffered a number of setbacks since it was formed in late 2007, including production delays, safety recalls and the loss of over 300 cars in hurricane Sandy. The hybrid Karma model went on general sale in 2011 (read the review here)
Since the company's sole battery producer, A123 Systems, seized trading in June Fisker has been unable to produce any cars – leading to further doubt over the viability of the future prospects for the company.
Fisker claims it has produced over 2000 Karmas, but is now seeking a partnership with a larger car company. Rumours suggest that Chinese car manufacturers Dongfeng and Geely are both in the picture.