With the new Focus RS set to arrive in the showrooms in the new year, fast Fords are hot topic at evo Towers. Though there's no word as to whether the new car will spawn a competition model, the RS badge on its boot links it to a long list of Ford rally and race cars. And with 345bhp and four-wheel-drive part of its armoury, the 2016 Focus RS has inherited the high performance components of its motorsport predecessors.
To help whet your appetite for Ford Performance's newest arrival we look back at some of the Blue Oval's geatest cars from the world of race and rally. Five of our favourites are listed below – add any you think we've missed off in the comments section underneath.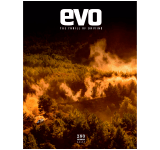 Subscribe to evo magazine
Subscribe today to have every issue of evo delivered straight to you. You'll SAVE 39% on the shop price, and get evo for its original cover price for a whole year!
Ford Focus RS WRC 
Ever since Ford announced that the new Focus RS would feature four-wheel-drive (its predecessors were all front-driven), many have been quick to draw links to Ford's Focus RS WRC cars. There were several generations of car produced during model's time on the World Rally stage between 1999 and 2010, but for our list, we've chosen the first-generation Focus RS WRC.
Powered by a turbocharged 2-litre four-cylinder engine, the car was restricted to 300bhp, which, combined with its 1230kg weight, ensured power-to-weight was rated at a healthy 248bhp/ton. At its peak it was one of the fastest WRC cars of its generation. The reason for its inclusion on this list revolves around its star driver: the late Colin McRae.
It never won McRae the title – in fact the Focus' first and only world title was the Constructors' Championship in 2006 – but nobody could deny that the '95 World Championship winning Scotsman drove the Mk1 Focus WRC to its absolute limit, as his unbelievable car control demonstrated on the 2001 RAC rally showed.
Mk2 Escort rally car
Given that evo's Features Editor Henry Catchpole owns a Mk2 Escort rally car, it's probably little surprise to see it listed here. However, the car we're focusing on isn't Henry's RS2000, but rather the 1979 World Rally Championship winning RS1800.
Though road going RS1800s featured a fuel-injected 1790cc Cosworth BDE engine, Ford's factory rally cars were powered by a larger 2-litre engine. Power peaked at around 270bhp and drove the rear wheels through a five-speed ZF gearbox with straight-cut teeth. Additionally, the car's body shell was extensively strengthened and suspended on five-link suspension.
Though it wasn't the most advanced rally car of its time, reliability and strong pace enabled it to take an impressive five wins (factory run cars accounted for three of those). Ford's drivers Björn Waldegård and Hannu Mikkola finished first and second in the Championship that year, cementing the car's dominance over key rivals like Fiat and its 131 Abarth. 
Such was the RS1800's success, that its other factory driver, Ari Vatanen, managed to win the 1981 WRC title despite the arrival of Audi's more advanced four-wheel-drive Quattro. It ensured that the Mk2 Escort would remain one of rally's most respected cars – and one that's still widely used in historic rallying today.
GT40
It took Ford three attempts to unhinge Ferrari from its six-year dominance at Le Mans, with two unsuccessful campaigns finally culminating with a win in 1966. Driven by Bruce McLaren and Chris Amon, 1966's leading Ford GT40 didn't just win, it led home two sister cars to beat four Porsche 906s and Ferrari's first 275 GTB/C. 
These podium-hogging GT40s were British built Mk2s, powered by 7-litre Ford V8s producing around 485bhp – around 135bhp more than the peak output of the Mk1's 4.7-litre V8. 
The GT40's performance was so strong that the winning car averaged 130.9mph over the course of its 360 laps, beating 1965's winning Ferrari 250LM by a significant 9mph and 12 laps. In fact, the Ford GT40 proved so dominant that it won twice more in '67 and '68, in MkIV and then (surprisingly) Mk1 guise respectively. 
RS200
Ford's venture into the world of Group B rallying came with the RS200. Powered by a turbocharged 1803cc four-cylinder engine producing 420bhp, the car shrugged off a bumpy development period by being incredibly quick out of the box. 
So quick, in fact, that the RS200 won on its debut at the Lindisfarne Rally in August 1985, before securing a podium finish on its WRC debut in 1986 in Sweden. It seemed that the car was destined for a highly competitive future, set to battle it out with the dominant forces of WRC of the time, Audi and Peugeot.
But then tragedy struck, as the Joaquim Santos-driven RS200 collided with spectators on the 1986's Rally of Portugal, killing three and injuring 30. Subsequent incidents at following rallies culminated in the deaths of Lancia Delta S4 driver and co-driver, Henri Toivonen and Sergio Cresto, in Corsica two months later, leaving FISA (motorsport's governing body at the time) with little choice but to ban Group B cars outright from the following year.
The RS200 was therefore shrouded in tragedy before it ever really had a chance to succeed. Nevertheless, it is still remembered as one of the fastest and greatest cars from what many label as golden years of World Rally, and for that reason, it deserves a place on our list.
Sierra RS500 Cosworth
From the golden era of rallying to the golden era of touring car racing, the Sierra RS Cosworth was, and still is, one of the most extreme racing cars to ever grace a touring car grid. And the RS500 listed here was an evolution of the already successful Sierra RS Cosworth.
In order to compete with the fastest cars of the World Touring Car Championship – BMW's E30 M3 and Alfa Romeo's 75 Turbo – the Sierra's 2-litre four-cylinder engine was boosted to produce 500bhp. With so much power produced by a relatively small engine, the WTCC represented the cutting edge of engine technology in its day.
Despite its clear pace, the RS500 missed out on securing its drivers the 1987 World Touring Car Championship, but it came very close – Ford teammates Klaus Ludwig and Klaus Niedzwiedz tied on points for second, just one point behind the championship winning BMW M3 of Roberto Ravaglia. 
Unfortunately for the RS500, the World Championship would cease to exist from 1988 (it didn't return until 1993), but the car did at least win the Group A class of the 1990 British Touring Car Championship. 
The following footage is actually of the Birmingham Superprix round of the British Championship, in the year before the RS500's maiden title. Not only does it show how frantic the racing was, it also clearly illustrates just how fast and physical to drive these cars were.
Video