Ford Focus RS (mk2) buying guide - Ford Focus RS (Mk2) used prices and specs
How much to pay for a Ford Focus RS and how much it'll cost you to run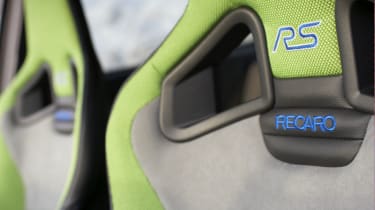 What to pay
Despite early cars touching five years old now, prices aren't falling particularly fast. Early cars with 40,000-50,000 miles haven't yet dropped below £18,000 whether looking privately or buying from an independent dealer.
The vast majority of mk2 RSs are in the £20-23K bracket, where there's a wide choice of both standard and modified cars with a full service history. Even Mountune-upgraded cars don't attract a significant premium, but then neither do any of the best-known upgrades devalue a well-cared-for RS. Top dealer price for a late, low-mileage RS with all the options is £23-24K.
The rare RS500 is pricier: many dealers ask £35K and specialist Focus RS Direct has delivery-mileage cars up for £40K - as much as they cost when new.
Specifications
| | |
| --- | --- |
| Engine  | In-line 5-cyl, 2521cc, turbo |
| Power | 300bhp @ 6500rpm |
| Torque | 324lb ft @ 2300-4500rpm |
| Transmission  | Six-speed manual, front-wheel drive |
| Weight (kerb)  | 1467kg |
| Power-to-weight  | 208bhp/ton |
| 0-60mph | 5.9sec |
| Top speed (claimed) | 163mph |
| Price when new  | £27,575 (2010) |
Parts prices
| | |
| --- | --- |
| Tyres (each) | £164.99 front and rear, Conti SportContact |
| Brake pads (front set) | £174.97 |
| Brake discs (front pair) | £250.13 |
| Suspension upgrade | £769.00 (BC Racing coilovers set) |
| Engine stabiliser bracket | £79.99 (GGR) |
| Exhaust | £521.54 (Mongoose, cat-back) |
| Oil filter | £12.62 |
| Air filter  | £15.17 |
| Spark plugs (set of five) | £52.74 |
Parts prices from grahamgoode.com. Tyre prices from blackcircles.com. All prices include VAT at 20 per cent
Servicing
| | |
| --- | --- |
| 25,000 miles (or 24 months)  | £345.48 |
| 37,500 miles (or 36 months) | £411.97 |
Prices from grahamgoode.com including VAT at 20 per cent 2,500 miles (or 12 months) £275.94
Useful contacts
www.focusrsoc.com (forums, advice, events)www.rsownersclub.co.uk (forums, advice, events)www.grahamgoode.com (parts, tuning, servicing)www.focusrsdirect.co.uk (specialist, sales)www.j-w-racing.co.uk (tuning, modifying)www.mountuneperformance.com (tuning)www.focusrsparts.co.uk (parts and servicing)