Ford Focus RS Mountune m400X upgrade most powerful yet
Mountune has released details of its new m400R and m400X tuning packs for Focus RS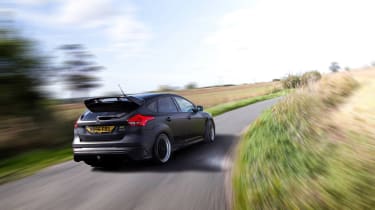 The Ford Focus RS might have found its last customers, but Mountune hasn't stopped development of its extreme packages giving the already rapid hot hatch even more grunt. Under new m400R and m400X monikers, both are able to be retro-fitted to all Focus RS models, with current Mountune m400 customers also able to upgrade their pack to this latest version.
Both packages raise the standard Focus RS's power from 345bhp to 394bhp, with torque bulked out to 413lb ft, a rise of 63lb ft over standard. Although the two different tunes have the same peak numbers, the m400X package sustains these numbers over a longer portion of the rev range, unlocking the most performance possible from the standard 2.3-litre EcoBoost four-cylinder.
> Click here for our review of the Focus RS Mountune
Like most of Mountune's performance packages, the m400R and m400X kits are made up from a combination of subtle software and hardware modifications within the standard RS's powertrain, unlocking its true potential without the need to dramatically upgrade the turbos, cooling or engine internals.
Within each of these packages is also various other available maps that can be chosen including the OEM map, a fuel economy map and Valet mode. Available within the Mountune AccessPort is also the ability to adjust the RPM rev limit, launch control, adjustable launch set-point on the clutch, full-throttle gear changes, a dyno mode and more.
Both packs are available now for £595, although they aren't covered under the usual Ford manufacturer's warranty, thanks to the substantial power and torque gains.