The Ford Focus RS is frequently referred to, not least by ourselves, as a cut price Nissan GT-R. With a heavily boosted turbocharged engine, a trick four-wheel drive system and an ability to shame much more expensive machinery on a B-road, there are definitely similarities between the fast Ford and Nissan's Godzilla. And as more Focus RSs find there way into customers' hands another similarity has become apparent, many owners seem determined to modify them and crank the power way beyond what the original manufacturer had intended. Just like many Nissan GT-R owners.
One tuning company has become synonymous with fast, modified Fords – thanks to its reliable tweaks, warranty cover and impressive increases in power – and that's Mountune. Based in Essex it has been modifying and racing cars for 37 years and started tuning Fords in 1986, so way before this trend for boosting Mk3 Focus RSs then.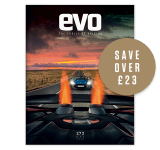 Subscribe to evo magazine
Subscribe today to have every issue of evo delivered straight to you. You'll SAVE 39% on the shop price, and get evo for its original cover price for a whole year!
> Read our review of the standard Ford Focus RS
Engine, transmission and 0-60 time
Mountune offers a variety of options when it comes to tuning the latest Focus RS. The range starts with the relatively conservative M375 pack that boosts power from 345bhp to 370bhp, then comes to the M380 pack that increases peak power to 375bhp. Finally there's the M400, the one we're testing, that puts out 394bhp and 376lb ft of torque, 49bhp and 29lb ft more than standard.
None of the engine's internals are changed in the pursuit of more power and the standard turbo remains, too. To achieve 394bhp, Mountune adds a high-flow induction kit, an uprated re-circulating valve, a large-capacity intercooler, a high-flow charge pipe, a three-inch exhaust downpipe with 200-cell sport catalytic converter, a three-inch exhaust system from the cat backwards and a remap of the ECU.
Mountune's software comes as a handset device that doesn't just up the power and recalibrate the engine to make the most of the new hardware, it works as an immobiliser, performance meter, custom gauge display and as a fault code reader, too.
Ford claims the standard Focus RS can reach 62mph from a standstill in just 4.7sec. We've actually achieved the same time when launching the RS to just 60mph, too. The M400, however, is significantly quicker completing the 0-60mph dash in juts 4.2sec.
Technical highlights?
Increasing a car's performance by almost 15 per cent without upgrading either the chassis or brakes is, perhaps, a little unwise. That's why our test car was fitted with a few other goodies from Mountune. They include sport springs that lower the RS by 15mm, high-performance brake pads and two-piece front discs, and 19-inch OZ Leggera wheels fitted with Michelin Pilot Sport Cup 2 tyres. As well as the chassis changes, Mountune has also added a proptotype wing extension.
What's it like to drive?
Mountune's tweaks are instantly apparent as soon as you embark down a road. But rather than feeling substantially quicker, you notice the chassis changes first, way before the engine modifications. The new wheels and lower body do look great, but they make the front axle hunt out cambers and grooves in the road, make it bump steer a little and magnify any torque steer. The ride is noticeably harsher, too.
However, it's far from unbearable – it's the sort of behavior you might expect from a modified car that looks as exuberant and as focused as this RS – and there is a noticeable benefit as well. The standard RS's inclination for the rear axle to bounce over large bumps or undulations, exaggerating any vertical inputs made to the chassis, are quelled by the new springs and it feels calmer and more suited to British B-roads.
The next thing you notice, before you've really detected the extra power, is the noise from the exhaust. When accelerating it's only slightly louder than standard, enough to sound aggressive but not offensively so. However, when you back off the throttle with the car in Sport mode, a cacophony of bangs and pops erupt from the tail pipe. They are so loud and pronounced it makes the RS sound like a proper WRC car running anti-lag. For the day we drove the car it was incredibly entertaining, and because it only really happens in Sport, I doubt the novelty would wear off either.
It's only when you really push the RS M400 that you notice the extra power. In a straight line it pulls harder at the top of the engine's revs and encourages you to rev it right to the red line, rather than just relying on the mid-range torque like you often find yourself doing in the standard car.
The extra oomph is also perceptible on the exit of corners as it works the RS's four-wheel drive system harder. Accelerate at the apex in the standard RS and there's a palpable sense of drive being sent to the rear axle that pushes you round the corner. No matter how committed you are though, that torque never materialises into anything a driver needs to react to or correct if the tarmac is dry. In the M400 RS, however, the extra power and torque mean that, if you just keep your foot planted, you do need to apply some corrective lock to remain pointing forward. It doesn't turn into rear-wheel drive-style smokey drifts, lifting off the throttle or counter steering stops it immediately, but it makes you feel truly essential in piloting the RS. With just a little more involvement the extra power stops the Focus feeling quite as contrived, and makes the whole car even more entertaining.
> Find out what a Litchfield's 1200bhp Nissan GT-R is like on track
Price and rivals
The M400 pack, including the engine hardware and remap, costs £3495 not including the labour to fit it. The brakes upgrades come in at a total of £973 (the front pads are £139 and rears £99, while the discs cost £735). The OZ wheels are £1520, the tyres are an extra £900. All that, although not extortionate, makes the new springs look like an absolute bargain at £199.
Of course Mountune isn't the only firm modifying the RS. Graham Goode Racing, who has been involved with racing and tuned Fords for as long as Mountune, offers a power increase to 355bhp and a host of exhaust, brake and chassis upgrades. Peak power might not sound all that impressive, but it showed a 20bhp increase on the dyno from a recorded figure of 335bhp from the standard car. It also only costs £499.
GT-R, BMW, Subaru tuner Litchfield also offers Focus RS power and chassis upgrades. Its remap ups the engine's output to 365bhp and 375lb ft, while the chassis changes include new adaptive KW coilovers.