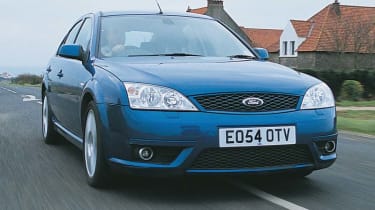 The welcome arrival at the Buckley household of the Mondeo ST has coincided with the arrival of another fine Ford, a 1970 Zodiac MkIV estate - that's the huge one with the tennis-court bonnet.
Well, I say huge: I was shocked to discover (and I've not actually checked figures) that visually the two cars seem to be the same size, which just shows how stealthily modern car manufacturers have bloated their cars out. Not only do we have child obesity now, but also vehicle obesity.
Apart from the fact that somebody tried to break into the Mondeo the other week, it's been a fairly incident-free month. As you would expect, it does nearly everything with faultless competence, feels thoroughly well made and is adequately quick. Even better, it never drops below 35mpg, is very quiet and has (by my admittedly abysmal standards, as I normally drive cars that can't even pick up FM) a fabulous sound system. Ford claims to have tackled torque-steer problems but it's hard to disguise the wheel-tugging that goes on occasionally; to be honest it doesn't bother me and makes the car feel a bit more alive. The thing is so high-geared and the band of useful urge so relatively narrow, that I find myself using the gears more than you might expect to keep the thing on the boil. Also, for a diesel, it is a remarkably easy car to stall.
My only other gripe is that I find the Mondeo neck-strainingly hard to see out of, especially at angled junctions when you struggle to see around the massive C-pillar. But that's a criticism you could make of many modern cars.
I was impressed that the Mondeo thwarted its attacker. Dead-locking the doors (all it takes is a double click on the blipper) seems to have done the trick. The driver's door handle was virtually ripped off but he couldn't get into the car.
Bob Wright at the Ford press office made the episode a painless experience - as I write, the Mondeo is in at a Gloucester Ford dealer having the damage sorted. Usefully we got a Fiesta courtesy car from Bristol Street Motors here in Stroud while the Mondeo was being fixed. Reasonably enough they wanted evidence of a driving licence from Catherine, my partner, before she was allowed to drive it; alas the licence was nowhere to be found. It was at this stage we discovered that mere mortals cannot speak to a human being at the DVLA any longer. But there is a £5-a-minute hot line that sends you through to a real person who can confirm details (in this case that Catherine had a licence). What a cocked-up country we live in.
Running Costs
| | |
| --- | --- |
| Date acquired | December 2004 |
| Total mileage | 6500 |
| Costs this month | £0 |
| Mileage this month | 2254 |
| MPG this month | 35mpg£0 |