Ford Mustang RTR video
A new upgrade package for the Mustang sees power increase to 624bhp.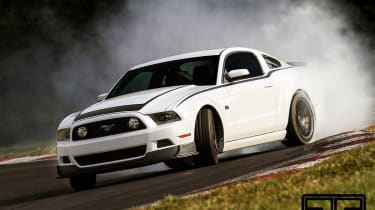 The official 2013 RTR upgrade for the Ford Mustang has been released, and unlike previous upgrade packages from the World Champion Drifter Vaughn Gittin Jr., this year's package - available at all US Ford dealerships - sees power increase up to 624bhp.
Vaughn is said to have worked with experienced chassis engineers to create 'one of the most impressive handling and fun-to-drive Mustangs out there'.
There are two packages on offer, the Spec 1 - which adds the full styling kit, Ford Racing springs and performance exhaust - and then there's Spec 2. This adds adjustably dampers, uprated anti-roll bars, rear strut brace and the option of 525 or 624bhp supercharger systems. Spec 1 costs $6250 (£3984), and the Spec 2 is from $11,995 (£7646).