New Yokohama Advan Sport V107 UHP tyre revealed
Yokohama's new ultra high performance tyre range is ready to launch
Japanese tyre manufacturer Yokohama has released details of its new Advan Sport V107 range of ultra-high performance tyres that replace the existing V105 range for sports cars, SUVs and EVs. 
The new V107 range is proposed to have notable improvements in wet and dry handling performance and lateral stability. A new asymmetric tread pattern and improvements to the tyre carcass have also been focused on in aid of resilience to deformation under lateral loads, while also giving the tyre improved structural rigidity.
The V107 range has been developed in conjunction with some manufacturers for specific OEM fitments since the year 2020, coordinating with AMG and BMW M on some of their large SUV ranges.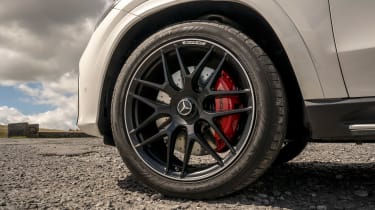 This launch brings with it a much wider range of sizes to act as optional replacement rubber for high performance models, launching 43 sizes in early 2022 ranging from 225/40 ZR18 to 305/35 R23, the latter to fit the increasingly common 23-inch wheel size being employed on large high performance SUVs. By the end of 2022, a total of 80 sizes will be on-stream. 
Bespoke SUV-specification sizes will be denoted as such on their sidewalls, but Yokohama has not introduced any EV-specific variations, although their fitment is suitable. 
More information about the new flagship range will be released in the coming months, with Yokohama introducing a staggered launch in selected markets throughout 2022.