Techrules Ren RS revealed in Geneva with 1287bhp
The Techrules Ren RS racer utilises micro-turbine technology to generate 7,722Nm of torque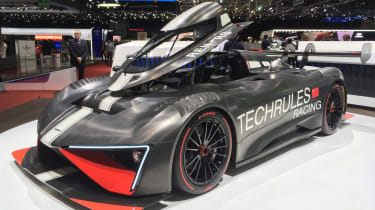 The 2018 Geneva motor show has witnessed the arrival of the Techrules Ren RS is a lightweight, track-only variant of the Techrules Ren supercar that appeared at the event last year. 
> Geneva motor show 2018: preview of the key cars
Based on the road-going Ren, the Ren RS employs the same turbine-recharging electric vehicle powertrain technology. As a result you can specify the Ren RS with four or six motors (two on the front axle and two or four on the rear axle). The latter motor combination develops 1287bhp and an astonishing 7,722Nm of torque, which yields a 0-62mph time of 3sec and a 205mph V-max.
The powertrain comprises four elements: a turbine, a generator, a battery pack and the electric motors. The turbine burns diesel fuel to drive the generator, which in turn charges up a 28kWh battery pack that supplies power to the electric motors. Brimmed with 80 litres of diesel, the Ren RS has a range of 727 miles.
Fabrizio and Giorgetto Giugiaro have redesigned the Ren's body with the motosport-biased design brief – and hence aerodynamics – clearly in mind. A new front splitter, aggressive rear diffuser and fixed rear wing now feature on the Ren RS.
> Why your next performance saloon car will be a hybrid
However, the biggest exterior change sees the cockpit canopy slimmed down to a slipperier shape, akin to a fighter-jet-style canopy. As a result, the Ren RS only has room for one occupant, not three like the Ren.
The chassis layout is as per the Ren, which debuted at the 2017 Geneva motor show. So aluminum subframes, which house the electric motors and provide the mounting points for the double-wishbone pushrod suspension, are secured to a carbonfibre tub. Continuing the theme of high-grade race-spec componentry are AP Racing carbon-ceramic brakes and KW dampers.