Goodyear launches new concept tyre at Geneva motor show
Aero Concept from Goodyear looks at one possible future tyre solution for flying cars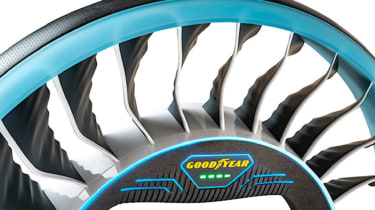 Proof that manufacturers need to be constantly looking ahead is evidenced by Goodyear's latest concept tyre revealed at the Geneva motor show. Dubbed the Aero Goodyear says it's been designed as a two-in-one tyre for the autonomous flying cars of the future. It might sound all a little fanciful at this stage as we still face plenty of barriers to the arrival of autonomous cars but Goodyear's keen to point out that many of the lessons it has learned with the Aero Concept are applicable to today's tyre development. 
The Aero Concept features a multimodal design – it'll transfer drive to the road as tyres do today yet would also double up as an aircraft propulsion system, acting as a propeller in the air. Its non-pneumatic airless construction makes it flexible enough to absorb road shocks yet strong enough to rotate at high speeds in order to create lift. 
> 2019 Geneva Motor Show: latest news
It also features Magnetic Propulsion to provide frictionless propulsion and uses fibre optic sensors to monitor road conditions as well as the condition of the tyre itself. No future technology is complete without a good dose of A.I. so the Aero tyre will feature Artificial Intelligence to analyse vehicle-to-vehicle data streams as well as vehicle-to-infrastructure communication. 
While we're obviously some way off seeing this type of tyre in production Goodyear has always prided itself in being a forward looking company. "For over 120 years Goodyear has obsessively pursued innovations and inventions, partnering with the pioneers driving change and discovery in transport," said Chris Helsel, Chief Technology Officer at Goodyear. 
While the Aero is a purely conceptual design at the moment some of its featured technologies, such as a non-pneumatic structure, are being developed by Goodyear today, while others might become the basis for new ideas and potentially new products in the future. "Goodyear's concepts are meant to trigger a debate on the tyres and transport technologies for a new mobility ecosystem," Helsel concluded.