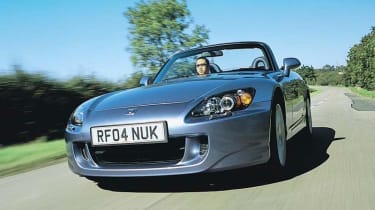 Judging by the emails I've received this month, Honda S2000 owners are a hardy bunch. They now think I'm a bit limp-wristed after I mentioned that my 'GT' doesn't have a temperature gauge; leaving my hard-top on further suggested that I'm some sort of soft, southern shandy-drinker. So this month I've been mainly going commando, in the West Country, Essex, Oxfordshire, London and Wales.
With the hard-top off and the fast-retracting electric roof down, every journey in the S2000 becomes something to savour. Even checking out areas of north London for a potential house move was more of an outing than a chore. Even the schizo nature of the car began to make sense, as its easy-going side made city driving a breeze.
As the miles pile on, the engine has become much freer-revving. And I've now got a handle on how the engine's light weight and its position a long way back in the nose, contributes to the S2000's benign handling - I'm impressed at how stable and fast it feels through corners (the eastbound M25/ southbound M11 sliproad is always a fun test).
Add serious grip to that feeling of stability and you end up with plenty of confidence through long, fast sweepers. I seem to be enjoying this side of the Honda increasingly and getting less frustrated with the lack of feedback from the chassis, although the handling feels more adjustable than before, helped by the new-found flexibility of the engine.
Our recent long weekend away in Wales was much more enjoyable than a previous outing to Lincolnshire. Even with all our clobber in the compact-looking but useable boot, the Honda romped past slower traffic with ease. Maybe I've changed my driving style or maybe it's that improved engine. What's more, the addition of floor-mats has dampened the noise in the footwells, making the car feel smoother, stronger and less coarse... oh dear, maybe I am a bit of a softie after all.
Running Costs
| | |
| --- | --- |
| Date acquired | June 2004 |
| Total mileage | 5431 |
| Costs this month | £45 for floor mats |
| Mileage this month | 2079 |
| MPG this month | 28.3 |