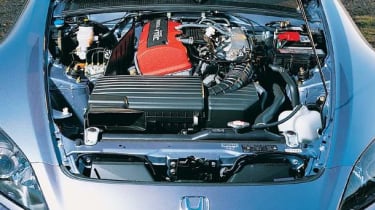 I made a complete arse of myself this month as I negotiated a busy, wet roundabout. As the Honda slithered sideways, onlookers must have thought it was Dickie 'Drift Bitch' Meaden looking through the side window as I fluked a recovery. Actually, it probably looked more like an accident about to happen as the traffic around me practised their emergency stops. Probably a good time to think about changing the Honda's tyres.
It's amazing that they've lasted this long: 18,000 miles including a little track use have 'grained' the Bridgestones somewhat but they're still just within the legal limit! It's sad but true, however, that most of those miles have been pounding up and down the M1 rather than blitzing along the B-roads.
Another motorway journey 'up north' to Carlisle got Helen complaining that her ears were ringing at the end of the 250-mile trip. Personally, I thought that with the soft top back in place it felt slightly more refined (fewer creaks) and quieter (less wind- noise) than when the hard top was on. Good job I didn't take the Caterham then...
Motorway slogs apart, this month has seen the windscreen getting chipped, while the bodywork has been lightly 'keyed' by some low-life scum whilst the Honda was parked at Clerkenwell Green. It's barely noticeable but it's still infuriating. Just why do people feel the need to do this?
The windscreen chip turned out to be the repairable kind, and I learned something new this month. I didn't realise that a chipped 'screen should be repaired within 24 hours of the damage happening. Otherwise dirt can get into the crack, making an invisible repair virtually impossible. I'd left it for a week, so the repair carried out by AutoGlass wasn't perfect, but it was still a better solution than replacing the 'screen, especially as the service is normally carried out free by the insurance company at your home or place of work.
Otherwise the S2000 is wearing its miles well and getting better with age. It feels more spritely now than it did 5,000 miles ago. It had started to feel a little suffocated and jerky at low revs before the 18,000-mile service, but it's business as usual again now. In fact the only mechanical glitch is that it's popped out of gear a couple of times. Has anyone else experienced this? Write to fastfleet@evo.co.uk
Running Costs
| | |
| --- | --- |
| Date acquired | June 2004 |
| Total mileage | 18,685 |
| Costs this month | £170.53 (service) |
| Mileage this month | 2100 |
| MPG this month | 28.3 |