Anthony Davidson video interview - the race he yearns to win most
He might be 2014 WEC champ, but one trophy is still missing from Davidson's trophy cabinet
They say it doesn't matter how successful you are, you always want more; that it's human nature to always strive for more success. In the case of a racing driver, it seems there's always one more race they wish to win.
Anthony Davidson is no different, he won the World Endurance Championship in 2014, but he's far from content. There's one race he so badly desires to win. That race is Le Mans.
Having run annually since 1923, the 24 Hours of Le Mans is the world's longest running sports car endurance race, and is often named as the race every racing driver wants to win in their career. F1 world champions, touring car legends and sports car winners; they all have one thing in common: they all respect the challenging 24 Hours of Le Mans.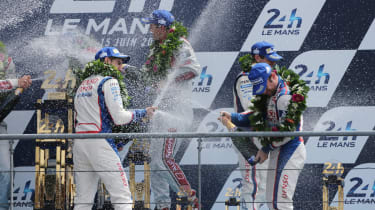 The 2015 Le Mans race features arguably one of the most exciting line-ups to ever grace the Circuit de la Sarthe. Aside from 2014 WEC winners Toyota Motorsport, Audi, Nissan and Porsche will also be fighting for the iconic race win. All will be running Michelin tyres, meaning the competition will be incredibly tight.
His 2014 championship win has proven his ability in sports cars, but will Anthony Davidson be able to cross the line first at the 2015 Le Mans 24 Hours? We'll find out on the weekend of the 13-14 June...