Mike Cross to retire from JLR, Matt Becker joins as Vehicle and Dynamics Director
Jaguar Land Rover is losing its superstar chief engineer, but picks up another in Matt Becker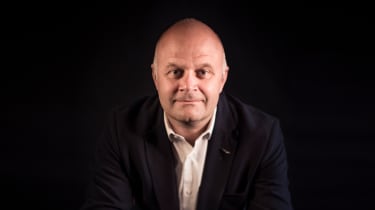 Jaguar Land Rover has appointed Matt Becker as its new Chief Vehicle Engineering Director, replacing Mike Cross who will be retiring after 37 years in the business. 
Becker will join JLR at the end of January after a seven year stint as Chief Engineer of Vehicle Attributes and Handling at Aston Martin, being responsible for the design and development of the brand's current range. During his tenure, he not only refined the second-generation VH platform that underpins the current Vantage and DB range, but also designed the brand's first SUV, the DBX, from a blank sheet of paper.
Before his time at Aston Martin, Becker had the role of Chief Engineer at Lotus, a benchmark brand as we all know in ride and handling calibration. It's this foundation at two of the most auspicious sports car manufacturers that puts him in great stead at his new role. 
He joins JLR at a time of big transformation, leading teams that have a huge challenge ahead of them in transforming their brands in very different ways. Jaguar is about to begin a process of transforming into an all-electric luxury brand, with all of its current I.C models not due to be replaced with like-for-like models. Land Rover has its own challenges, appealing to its customer base while making its own, more measured adoption of electrification. 
Upon his appointment, Becker said: 'I am very excited to be joining Jaguar Land Rover, especially the Engineering leadership team as they continue to deliver world class products to Jaguar and Land Rover customers. I have looked with admiration at the work the team achieved on many vehicles over the recent past, appreciating the level of technical excellence and vehicle dynamics know-how that is required to make Land Rover and Jaguar products handle in the manner they do.'  
His appointment comes as Mike Cross announces his retirement after 37 years at JLR, commenting ​​'I have had a wonderful career at Jaguar Land Rover, joining Jaguar Rover Triumph as a student apprentice, approaching retirement age I never expected that I would have been so involved in the development and engineering of some of the most iconic cars in the automotive industry.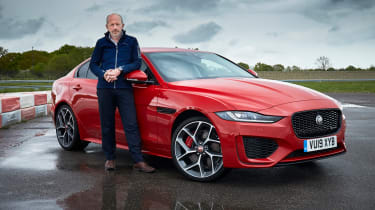 As a Chief Engineer, I relished the responsibility of evaluating new products through the eyes of the Jaguar and Land Rover customers. This role allowed me to drive lots of cars and meet many people, like Richard Parry-Jones and Sir Jackie Stewart - both of whom I shall be forever grateful to as they became mentors and helped me to develop as a vehicle evaluator and development engineer.
Personal highlights across my career are many, however memories of driving a Jaguar Formula One car at a pre-season test and competing in the Mille Miglia in a Jaguar C-type will last forever.'
Mike Cross's legacy will be long-standing, but Becker's active success at Aston Martin and Lotus before that put the brand in a great position to maintain its level of excellence from behind the wheel.