Subaru WRX STI v Jaguar F-type V6 S: drag race
The four-wheel-drive Subaru WRX STI faces the more powerful Jaguar F-type V6 S in a straight line drag race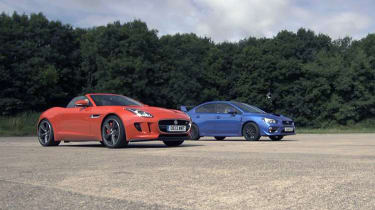 This week's Drag Battle looks to find out what really counts in drag racing – four-wheel drive traction or outright power.
The Subaru WRX STI produces 296bhp from its 2.5-litre flat-four turbocharged engine. It does of course also features a clever four-wheel drive system, which was made legendary by the original Imprezas rallying success. With a relatively healthy 300lb ft of torque, Subaru claims a 0-62mph time of 5.2 secs, and a top speed of 159mph top. It should, in theory, get away from the line like a scalded cat.
In the opposing corner, is the Jaguar F-type V6 S Roadster. This two-seater roadster produces 375bhp and 339lb ft of torque from its supercharged V6 engine. That's almost an extra 80bhp on tap, but with just two driven wheels at the rear it could be limited by traction. With a claimed 0-62mph of 4.8secs and top speed of 171mph, you might think it is a foregone conclusion, but the notoriously tricky surface at the Bruntingthorpe proving ground might just give the Subaru the upper hand.
Jaguar's V6 S Roadster also has the added benefit of launch control. This, along with the F-type's eight-speed ZF automatic, make fast getaways pretty straightforward and easily repeatable. With the six-speed manual Subaru WRX STI, it's all down to the driver. Dial in an appropriate amount of revs, and drop the clutch. Too few revs and the car will simply bog down, but it you are too aggressive with the clutch release it will severely shorten its life.
Want to see more evo Drag Battles? Watch our Youtube playlist here, or subscribe to our channel.