Jaguar XFR-S teased
Jaguar has released an image of the XFR-S, and has confirmed that it will be fully revealed at the Los Angeles motor show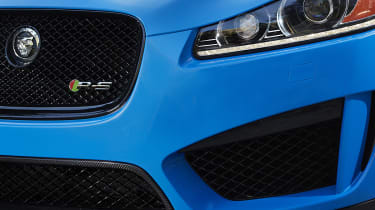 Jaguar has released a single teaser image, confirming that it will be revealing the XFR-S at the Los Angeles motor show. The image shows a new front bumper with carbon fibre inserts.
The company has said that the XFR-S will be the fastest and most powerful Jaguar saloon ever made. Being based on the XFR would indicate that the model is going to feature the same 5.0-litre supercharged V8, tuned to similar levels as the XKR-S at around 542bhp.
The LA show will also be the location for the launch of the F-type Black Pack performance trim – a new trim level for the model.