Jaguar XJ D review
More frugal Jaguar XJ sports saloon gets 442lb ft of torque and Supersport looks
On paper, there seems little reason to envy buyers of the rather wonderful XJ Supersport with its 503bhp supercharged V8. After all, this twin-turbo V6 diesel, which is expected to account for 85 per cent of XJ sales in the UK, is virtually indistinguishable from the outside, and the new 3-litre engine delivers a thumping 442lb ft of torque, almost as much as the V8. Sure, it has 'only' 271bhp, but while power grabs the headlines, torque gets the work done, so the diesel should deliver all the kick you need most of the time, with substantially better fuel consumption. And yet…
Don't get us wrong, the diesel XJ is a very good car. This long-wheelbase 'Portfolio' is about as posh as they get and looks just like the Supersport, right down to the 20-inch, lightly polished alloys. Like its supercharged sibling, its ride is on the taut side of comfortable and the car feels light on its toes, both in the corners and when you pin the throttle. It doesn't sound particularly dieselly either, more like a muted, gruff petrol six, and the big XJ shifts nicely as it works its way through the gears.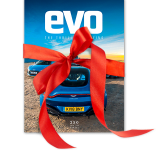 Subscribe to evo magazine
If you're passionate about the world's greatest performance cars, experience the thrill of driving with evo magazine. Try your first 5 issues for £5.
Trouble is, there isn't quite the roll and pitch control of the Supersport, nor the exhilarating reach of its V8. The steering feels lighter and the brakes a bit grabbier, too. The SS demonstrates the XJ's full potential. So if it's the diesel you need, we advise you not to test drive the Supersport.
Specifications
| | |
| --- | --- |
| Engine | V6, 2993cc, bi-turbo diesel |
| Max power | 271bhp @ 4000rpm |
| Max torque | 442lb ft @ 2000rpm |
| 0-60 | 6.0sec (claimed) |
| Top speed | 155mph (limited) |