Kia pro_cee'd GT
Kia has plans for its first high-performance model, a 200bhp pro_cee'd hot hatch, releasing a concept sketch of the new model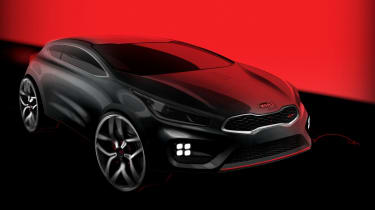 Korean car giant Kia has released a styling sketch of what is expected to be the company's first ever hot hatch - the 200bhp pro_cee'd GT.
Little information has been released about the model, but we do know that is will be powered by a 200bhp 1.6-litre turbocharged engine, shared with sister company Hyundai's Velostar Turbo. Although it's said to produce around 200bhp, the Kia says it won't be an uncompromising all-out performance car, but a slightly softer well-rounded GT.
The pro_ceed was revealed at this year's Paris motor show, and UK sales of the new turbocharged GT model are expected to begin in July 2013.