Kia Soul Sport hits the UK, priced from £23,250
Boxy Soul gets the Proceed GT's turbocharged engine but stops short of full 'GT' billing
The new Kia Soul Sport is now on sale in the UK. Part of a revised Soul range, the new model gets a turbocharged 1.6-litre engine to finally back up the distinctive styling with some entertaining performance credentials.
First revealed at the Paris motor show earlier this year, the Soul range as a whole has received subtle revisions to both exterior and interior styling. While the existing engine lineup has remained largely unaltered - a choice of 1.6-litre petrol and diesel units - there have been economy improvements, with the most frugal models achieving up to 58.8mpg.
> Read our Kia Proceed GT review
But it's the Sport that's of most interest to us. Ostensibly, it uses the drivetrain from the Proceed GT - a car we've grown quite fond of on our long-term Fast Fleet - with a 201bhp turbocharged take on Kia's 1.6-litre GDi unit, here renamed T-GDi.
While the model on display in Paris used a seven-speed dual-clutch transmission the UK model is features a manual - and hits 60mph in 7.5sec, with a top speed of 122mph. Fuel economy, still likely to be a selling point for Soul Sport customers, is 40.9mpg.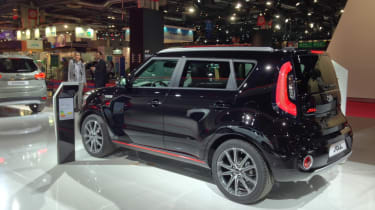 That puts the Kia Soul well and truly into warm hatch territory, while Kia has also added a new sport mode which alters the car's steering and adds weight. The more powerful Soul also gets bigger brakes as part of its upgrade package. Visit our sister site Carbuyer for a full review of the Kia Soul.
The Soul Sport also gets exterior upgrades. The 201bhp car gains twin exhausts, red detailing and bigger 18-inch alloy wheels. The standard Soul facelift brings with it different front and rear bumpers as well as gloss black switchgear. For the 201bhp car, interior changes include leather seats and orange accents and stitching.
Also available in the new Soul is the choice of three different sized touchscreens. Entry-level cars feature 5-inch displays, but a 7 or 8-inch screen can also be optioned. Apple CarPlay and Android Auto also are available. Other technology includes blind spot detection and a 'rear cross traffic alert' system.
The Soul range as a whole begins at £13,995, making it competitive with the multitude of more conventional crossovers in this market. The only real question for the performance model is whether buyers will be prepared to stump up Proceed GT money (£23,250) - and almost certainly sacrifice some dynamic ability - for the quirky looks of the Soul Sport.