Koenigsegg returns to Nürburgring - potential record attempt in the works?
One:1 seen testing at the 'ring, now with speed restrictions removed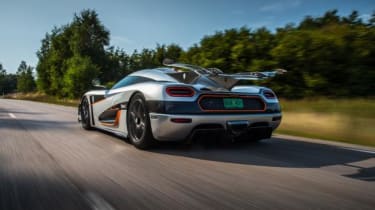 Back in June of last year we reported on Koenigsegg's scuppered Nürburgring record attempt following the track management's decision to force it to stick to the 155mph speed limit.
Now, with the limits lifted, the Swedish manufacturer is back. Its One:1 hypercar boasts a power to weight ratio of just that; one to one. The car features a 1341 metric hp twin-turbo 5-litre V8 engine and weighs 1341kg, Koenigsegg calls it the world's first 'megacar'.
Given its performance the One:1 could be within a chance of setting a new record. Flugplatz, Antoniusbuche and Schwedenkreuz have had their 124mph speed limit lifted, while the Döttinger Höhe section too no longer has a 155mph top speed restriction, leaving Koenigsegg free to start testing properly.
Koenigsegg itself is yet to confirm plans to attempt a record this year, but it has talked about the idea. The current record held by a street legal production car is a 6:48 posted by a Radical SR8 LM, while the Porsche 918 Spyder set a time of 6:57.
Koenigsegg's One:1 is said to put out over 600kg of downforce and have a theoretical top speed of 273mph. It's entirely possible then that even the ultra-hardcore Radical could be beaten.
>Read our Porsche 918 Spyder review
Testing and preparation for a record attempt takes a lot of time, so don't expect to hear anything from Koenigsegg anytime soon.
In other Nürburgring record news, Volkswagen just claimed the front wheel drive production record with its Golf GTI Clubsport S. You can read all about that here.