Koenigsegg One:1 active wing - Art of Speed
How do you keep a 1341bhp, 273mph car grounded?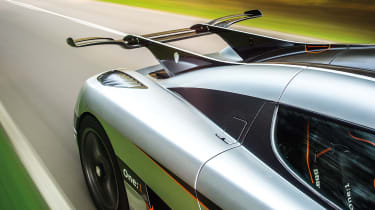 Koenigsegg. Twenty-one years old and mixing it with the big boys at the bleeding edge. Damn impressive. And it doesn't try to be them, which is part of the appeal. So, no elements of single-seater in the bodywork (legitimate for Ferrari or McLaren, contrived for almost anybody else) or imitation of any sort. The cars have a laconic design but intense performance, like a fast-forward Nordic noir.
This month's art is part of a mästerverk that starts with the cartoonishly quick Agera R and adds speed. Indeed, if you ever wanted to know what happens when your factory is at an airfield and you have 24/7 access to the runway, the One:1 is the answer. Naturally, its wing is huge; a proper whaletail, as curvaceous as it is shockingly broad. And like almost everything else on the car, its two tiers are made of carbonfibre.  
The One:1's wing is conspicuously held from its upper surface to keep the downforce-generating underside smooth. The tapering buttresses that it hangs from may seem an extravagance but their raison d'être is a functional one. If the support stalks sit just in front of the wing, as is standard practice, they create small disturbances in the airflow. As such, the wing doesn't realise its true potential. 
> 1600bhp Koenigsegg Jesko Absolut targets 300mph+ top speed
This might suffice for GT3 or DTM cars, but it won't do for a machine that somehow has to harness 1341bhp and has a theoretical top speed of 273mph (limited by the wing itself). So the buttresses extend straight back from far in front of the wing and are cut away underneath to leave space for the airflow to reform before it gets sliced up. They also act as rudders, stabilising the chassis at speed. 
Overall it seems an immaculate solution, and everything, wing included, weighs just nine kilos. For a system that helps develop 610kg at 174mph (remarkably similar to the McLaren P1) that's scarcely believable.
Sitting up at 25 degrees during braking (an angle that best balances drag and downforce) and lowering to minus six for big speeds, the wing is also mobile, or 'active'. This might seem odd at first, as the thick pylons that manipulate wing angles on rivals such as the P1 and Veyron are absent. Why doesn't Koenigsegg need such hardware? Because hydraulically actuated hollow-carbon pushrods fixed to the rear bulkhead are hidden within the buttresses and generate just enough force to overcome the mammoth pressures acting on the wing and alter its angle. 
Just another reason why the company's motto is The Spirit of Performance, not Posing.