Koenigsegg teases new model – new streamlined model incoming
Swedish hypercar manufacturer Koenigsegg has teased a new model coming this year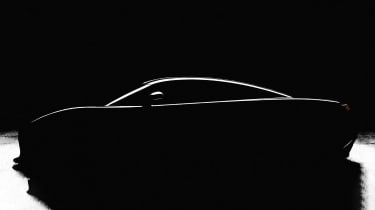 Koenigsegg has revealed a teaser image of a new model it plans to reveal sometime this year. The streamlined silhouette gives little if anything away, but does give us a basic level of insight into its latest new model. 
From the image released, we can see a distinct lack of fixed aero suggesting it'll be aimed towards ultimate top speed, but due to Koenigsegg boss Christian von Koenigsegg's confirmation that its Jekso Absolut will take this role, it makes this car's focus unclear.
> 1600bhp Koenigsegg Jesko enters production ahead of deliveries next year
Koenigsegg is currently in development of various engineering threads, with the hybridised Gemera and its three-cylinder powertrain soon to enter production alongside continued refinements of the V8 used in the Jesko. 
From what we can see, the silhouette mimics Koenigsegg's more traditional models that feature the V8, with the Gemera's compact combustion powertrain and electrified front axle designed specifically to fit the larger cabin that doesn't appear to be in use here. 
What is for certain are requisite elements to reach hypercar speeds such as a four-figure power output, some level of active aerodynamics and a slick coefficient of drag, something that high-speed specialists like the McLaren Speedtail and Bugatti Chiron 300 capitalise on to reach their officiated top speeds. 
Whatever the new model is, or whatever it's designed to do, any new Koenigsegg is an exciting enterprise thanks to the brand's relentless pursuit of innovation and performance.