Hardcore KTM X-Bow set for GT4 racing
KTM will enter the world of four-wheeled motorsport with this extreme looking, X-Bow based GT4 racer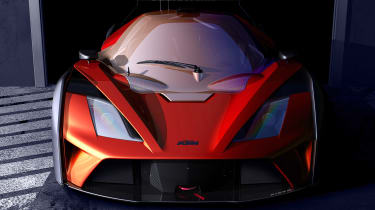 This is the latest image of KTM's upcoming racing car, which will compete in the GT4 European series and Pirelli World Challenge. It's the Austrian firm's first dedicated foray into four-wheeled motorsport and will spawn road-going versions in order to comply with FIA homologation rules.
A rendering from design consultancy Kiska, the above shows a heavily modified version of the already uncompromising X-Bow – a sub-800kg track-oriented two-seater with 296bhp in 'R' trim. While the model has until now exclusively been open-top, a previous render (see below) has revealed the mid-engined race car will have cooling louvres and a panoramic roof panel.
Built around a carbonfibre monocoque and powered by the same Volkswagen-sourced 2-litre TFSI as the standard car but in a higher state of tune, the GT4 car will be even more powerful with roughly 316bhp sent to the rear axle through a paddle-operated six-speed sequential 'box. Going up against similarly homologated versions of the BMW M3, Chevrolet Camaro, Aston Martin Vantage, Porsche 911 and Ginetta G50 on tracks such as Spa-Francorchamps, Zandvoort, and the Nürburgring, KTM's surprise package will need every one of those horses.
A collaborative effort with Reiter Engineering, the canopied race car's eventual kerb weight will be subject to the FIA Balance of Performance rules, which are an integral part of the GT4 philosophy. Drafted to maintain competition through driver skill rather than mechanical packages, the rules state that race cars must by-and-large maintain the original engine and bodywork of the basic production model. The significance of this should be apparent to anyone interested in owning a road-legal KTM X-Bow of unprecedented focus.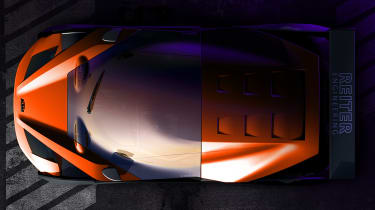 Of the race car, Hans Reiter, who owns Reiter Engineering, said: 'When you reflect on what the customer is being offered here in terms of the most modern racing technology, together with a very impressive safety concept, then you can really speak about it being exceptionally good value for money.'
KTM's GT4 car is expected to cost between 100,000 and 150,000 euros (roughly £80,000-£120,000). While expensive by road car norms, in racing terms the series is seen as excellent value for money. By comparison, McLaren's latest 650S-based GT3 car – which competes just a single bracket higher in the FIA's racing hierarchy – costs roughly £400,000 (and, incidentally, is driven by Jethro Bovingdon in next month's magazine).
Reiter has previously compared the X-Bow GT4's design to that of the Lamborghini Countach – very wide and very flat. He also expects reliability to be excellent, owing to the standard car's trackday popularity. 
'Since the new car is based on the KTM X-Bow, the customer is going to get a racing car that has now been tested on the world's racing circuits for six years. Our next major milestone will be the SRO Balance of Performance test in the spring.'
While Porsche 911s trading paint with KTM's X-Bow is about as incongruous a scene as it's possible to imagine in the strictly regulated world of FIA motorsport, it's a stirring proposition.