Lamborghini Gallardo GT3 car
Lamborghini has unveiled its plans to continue developing the Gallardo GT3 car in 2013 and 2014.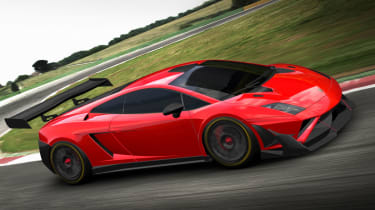 Lamborghini has unveiled its Gallardo GT3 racer for 2013 and 2014, which will do battle with the McLaren 12C, Porsche 911, Nissan GT-R and Mercedes SLS GT3 racers. Based on the new 2013 model Gallardo, Lamborghini has partnered with German motorsport team Reitler engineering – the team responsible for successfully developing independent Lamborghini GT racers since 2000.
The new model, dubbed the FL2, gets a new focus on endurance, with improved cooling, 24-hour-spec brakes and a reduction in fuel consumption. A new aerodynamic kit includes a revised front splitter, carbon rear diffuser from the Super Trofeo racer. Weight has also been reduced by 25kg over the previous GT3 racer.
It's the first time Lamborghini has officially offered a GT3 car, and the partnership with Reitler has been put in place for the next five years – fulfilling Lamborgini's plans to expand its motorsport activity in the future. Reitler is responsible for a total of 199 wins and 350 podium finishes within GT championships in the last five years.
Lamborghini has set the price at £273,000 (€320,000), more than the rival 911, but considerably cheaper than the McLaren and Mercedes SLS racers. First deliveries are expected to take place in March.